one thousand and one nights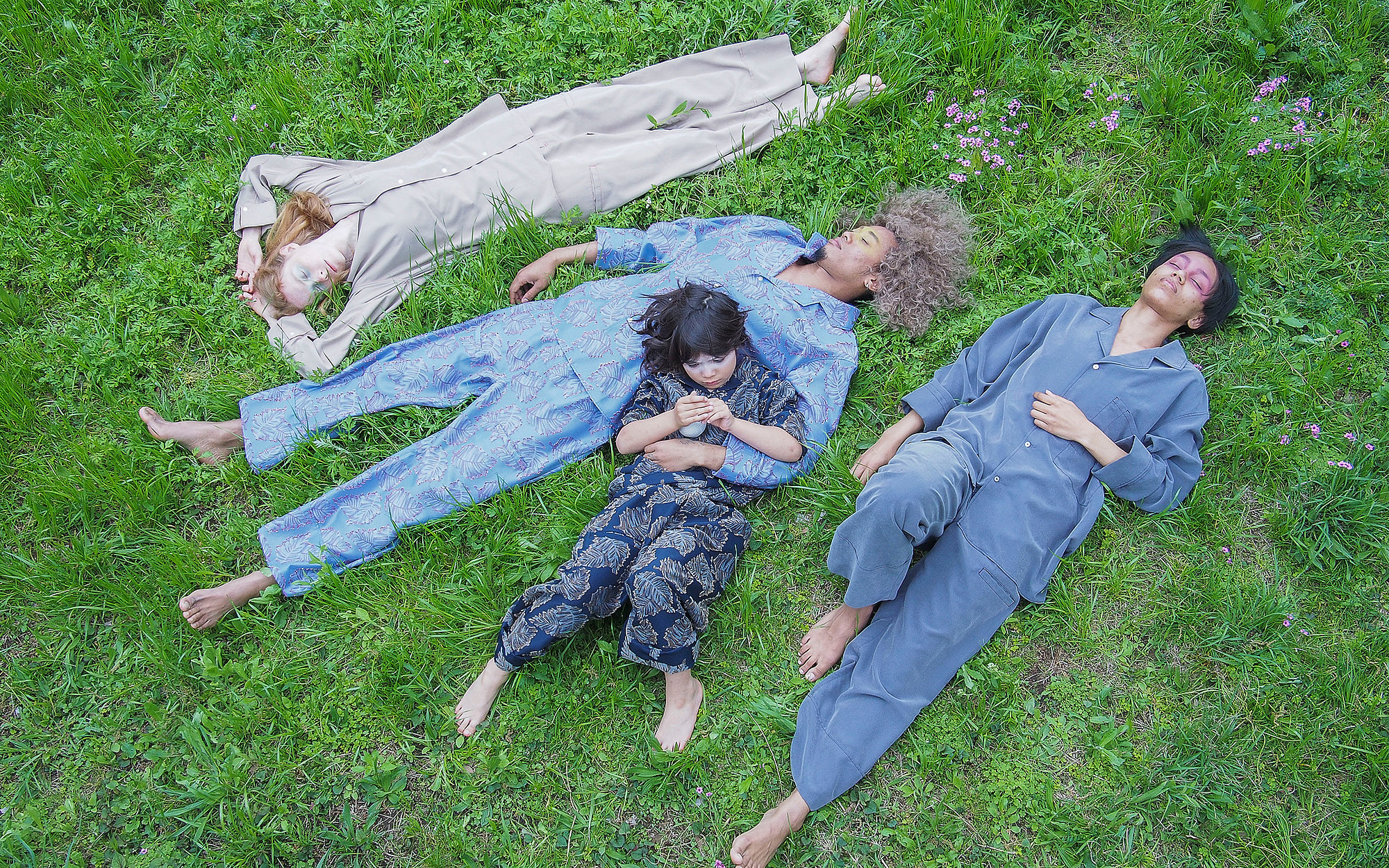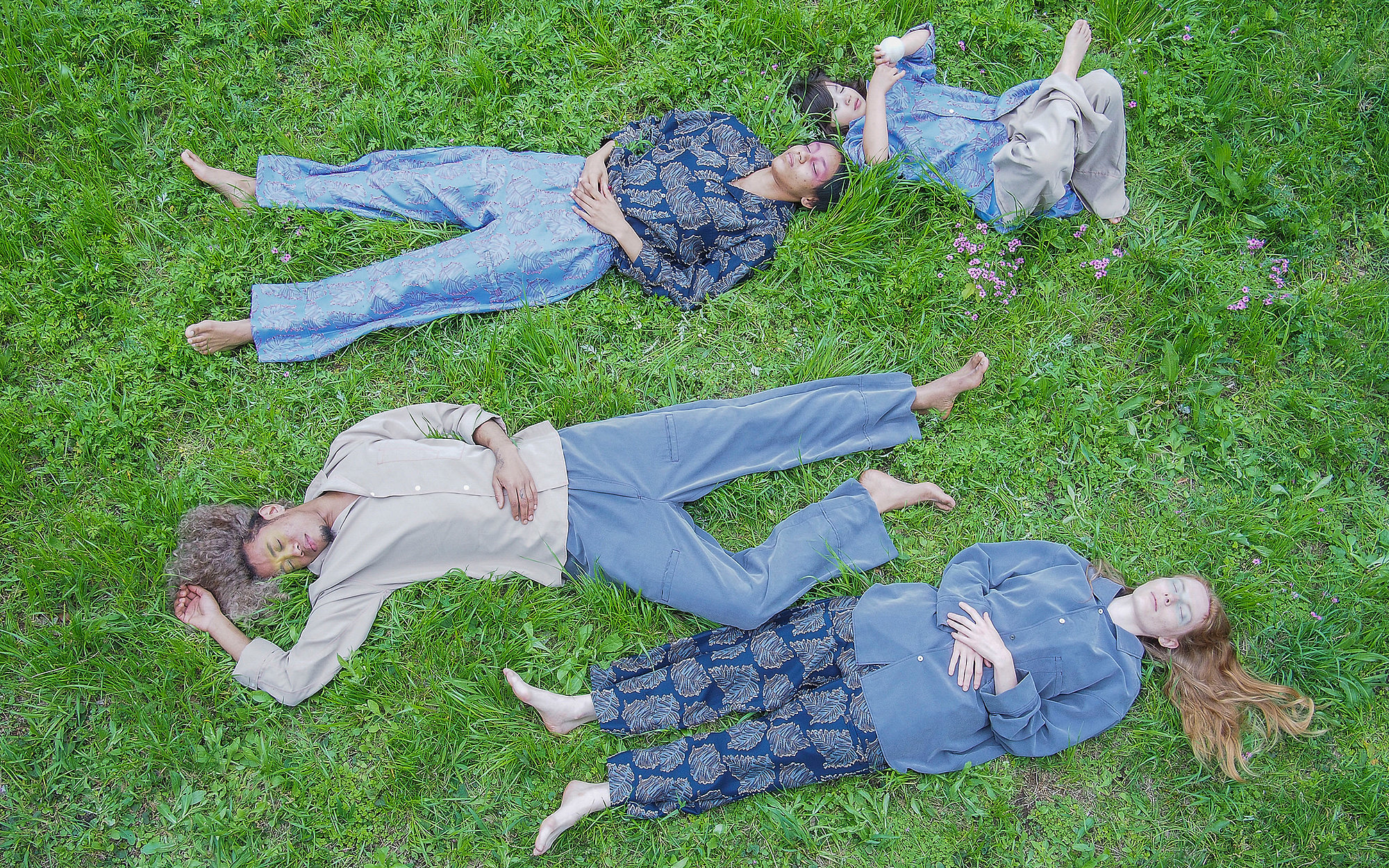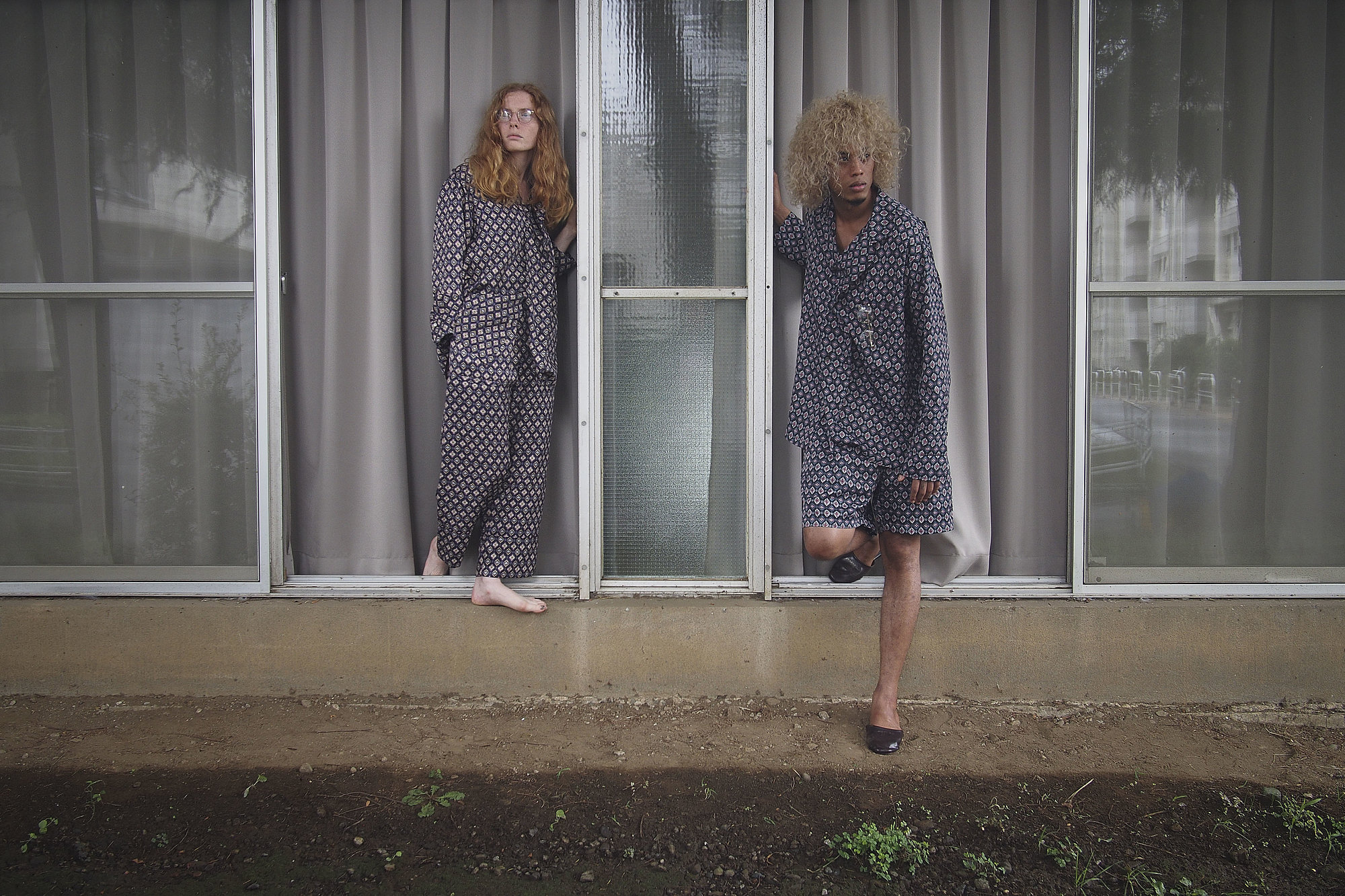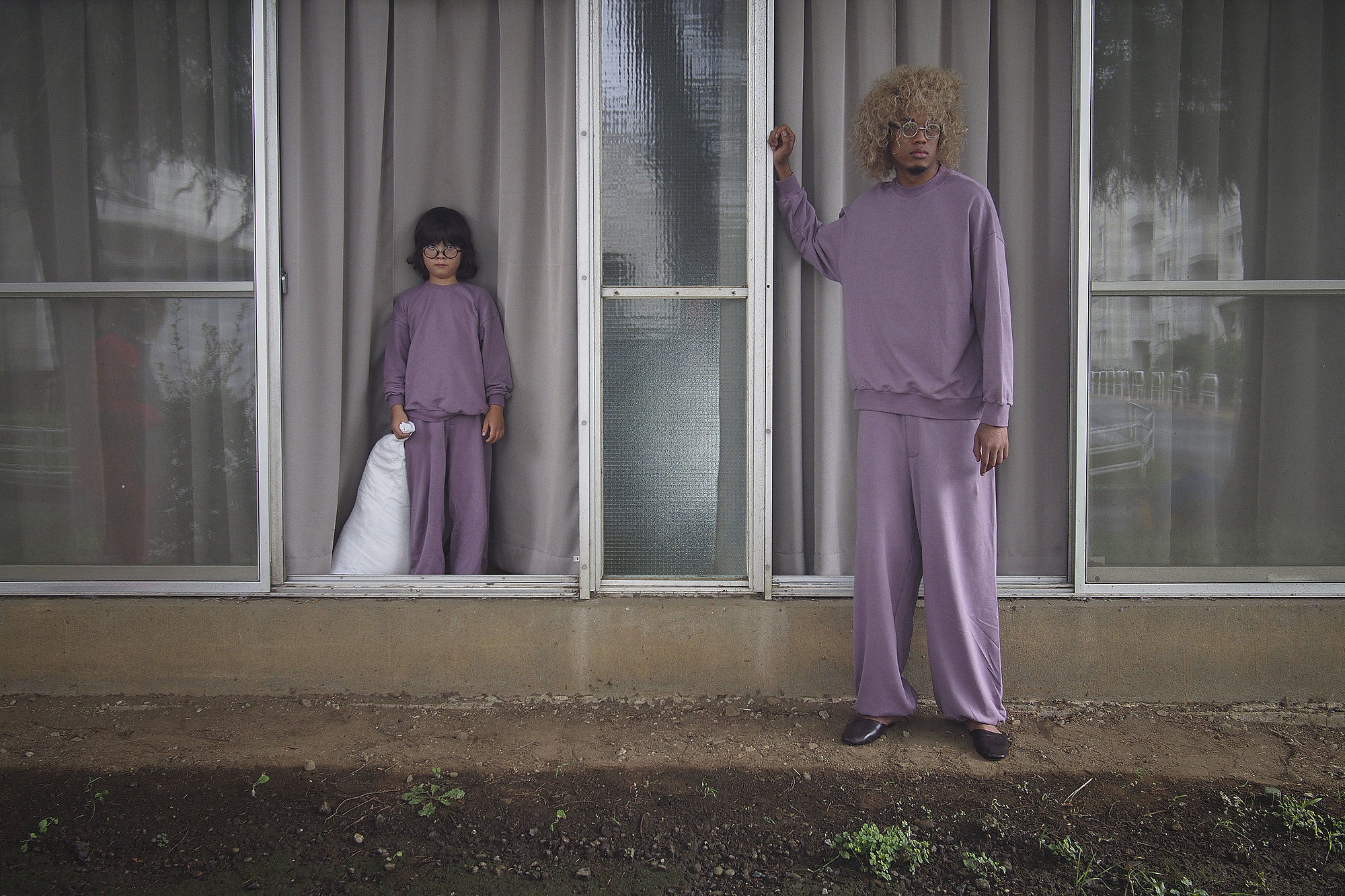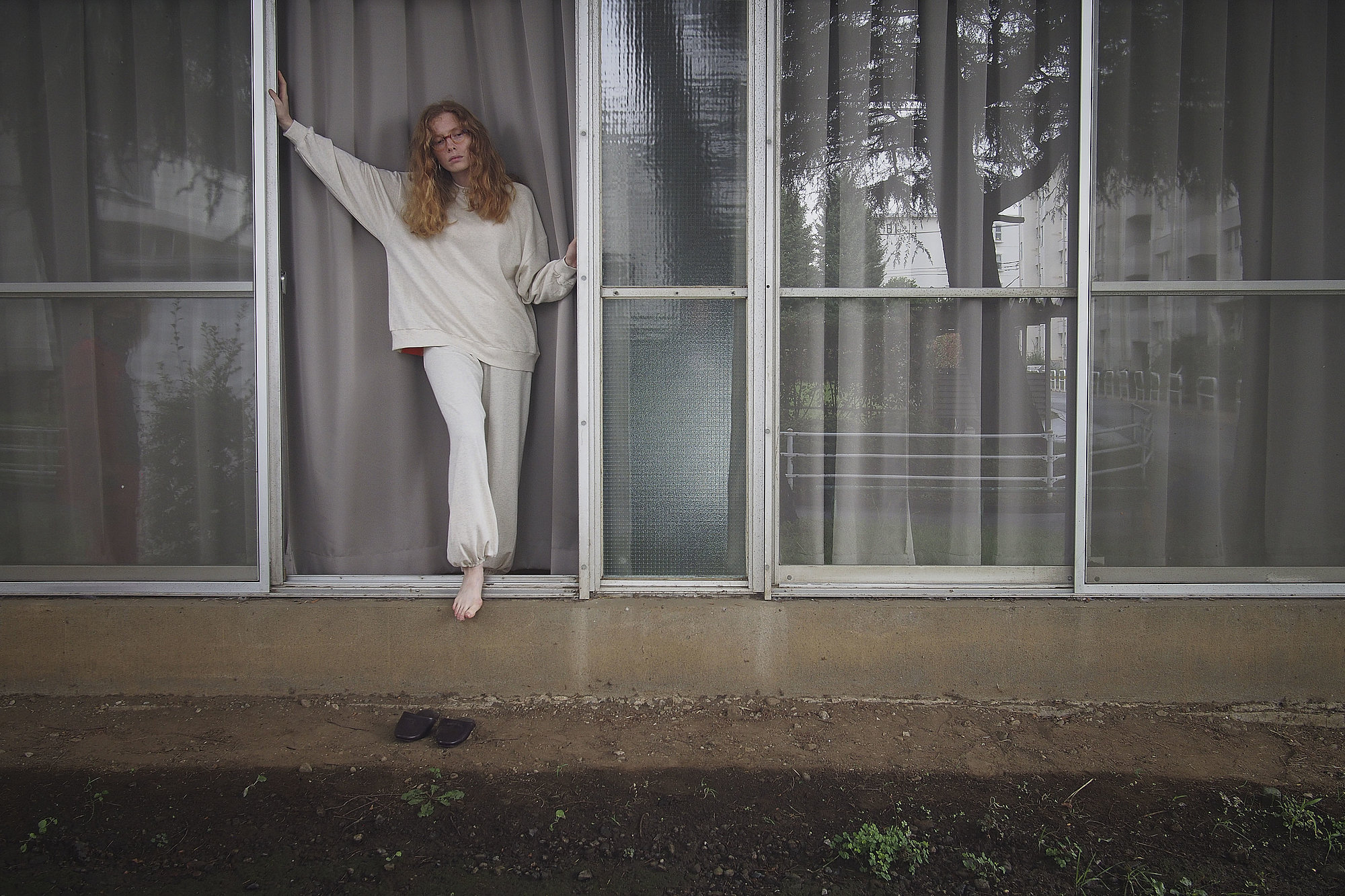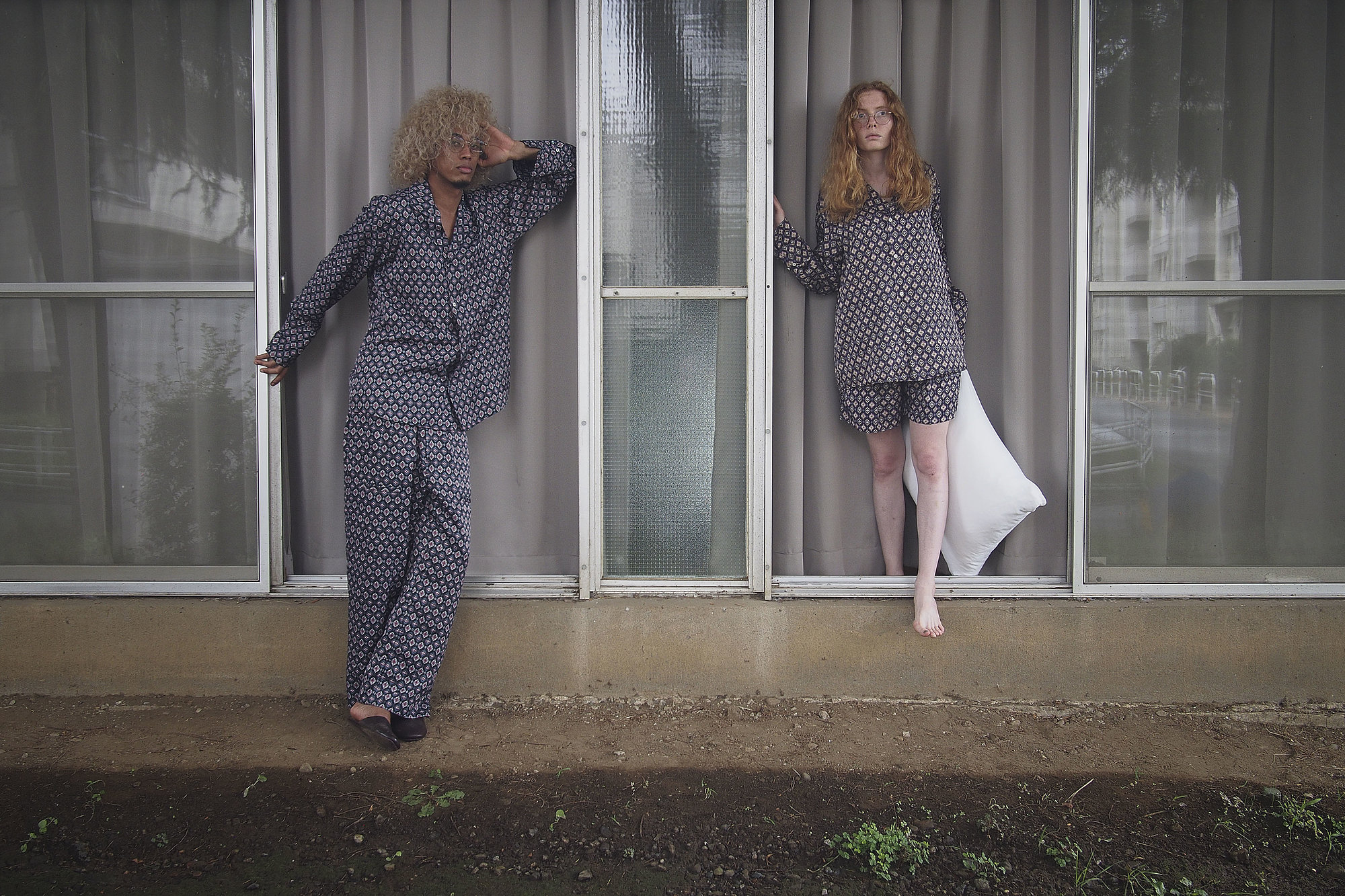 experience at the Hina Doll Atelier Sakyou in Shizuoka, 2021
Edwina Hörl was invited to the project deshitabi, a new style of travel and a modern take on the traditional apprentice-master dynamic. This unique experience offered the rare opportunity to learn first-hand from Japan's finest craftsmanship masters, who share generations-old techniques and methods, all with a modern twist.
The word deshi means apprentice. For centuries, the evolution of Japan's traditional crafts world has been rooted in its master-apprentice system. Generation after generation of apprentice artisans spend decades studying alongside their masters, acquiring the technical expertise and cultural practices of Japan's traditional crafts. This learning style not only helps keep Japan's artisan traditions alive, it enables the craft world to adjust to shifting modern times.
The word tabi means journey.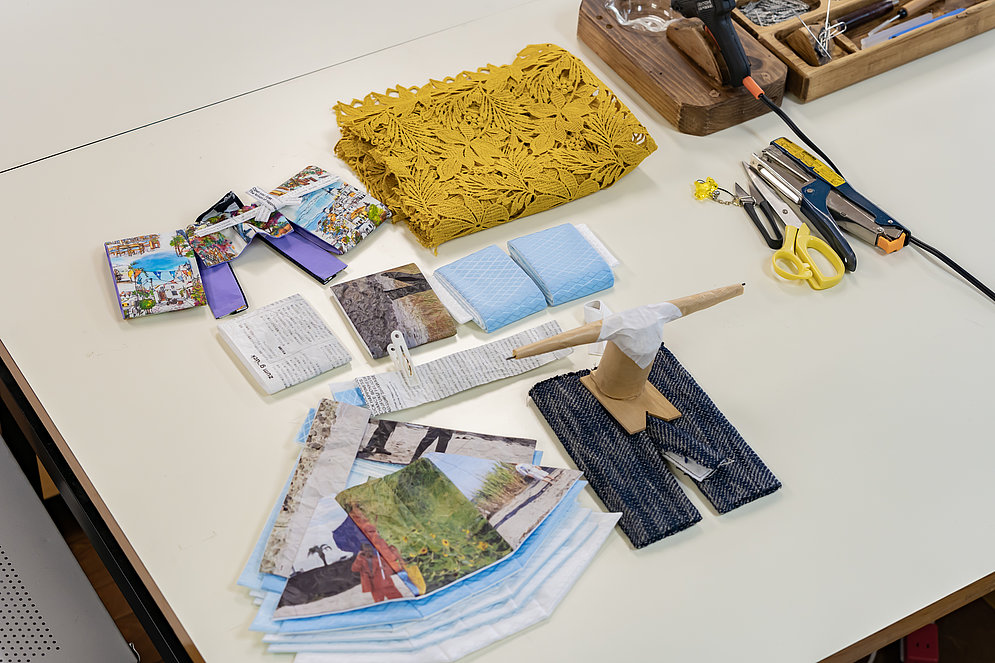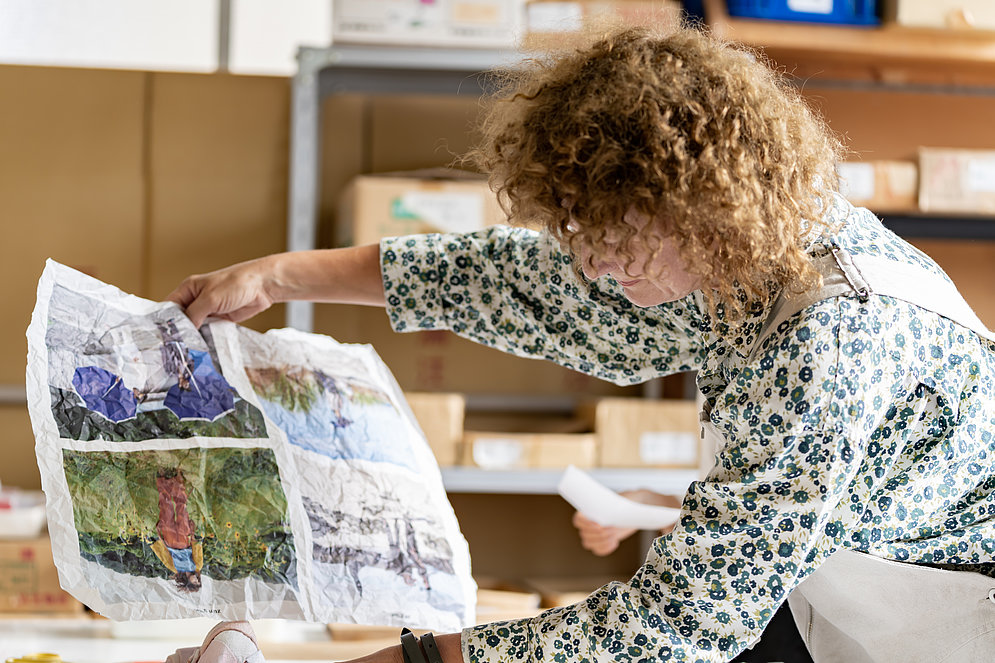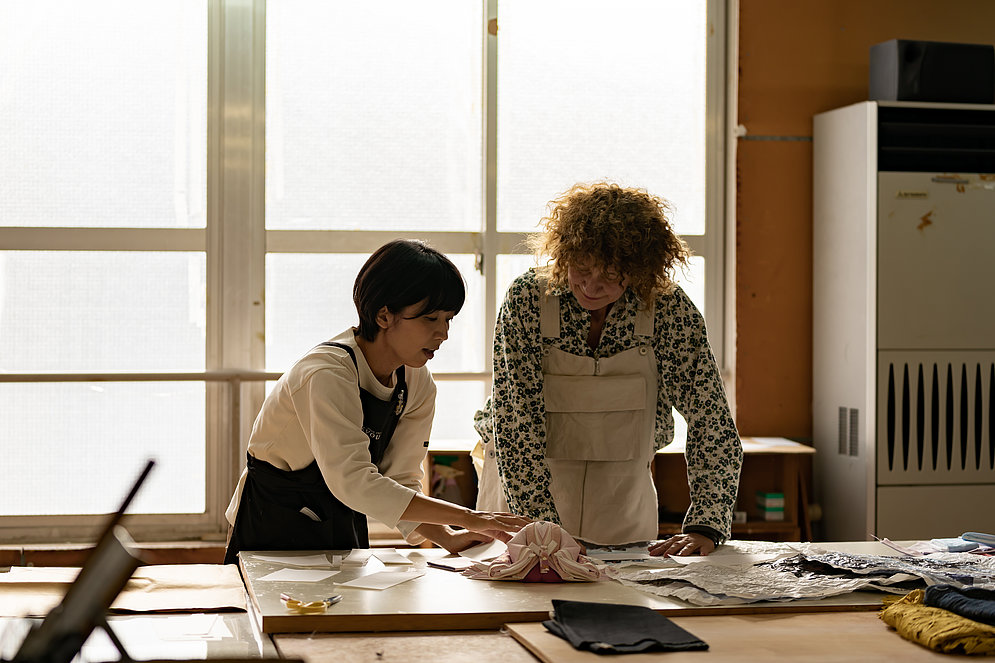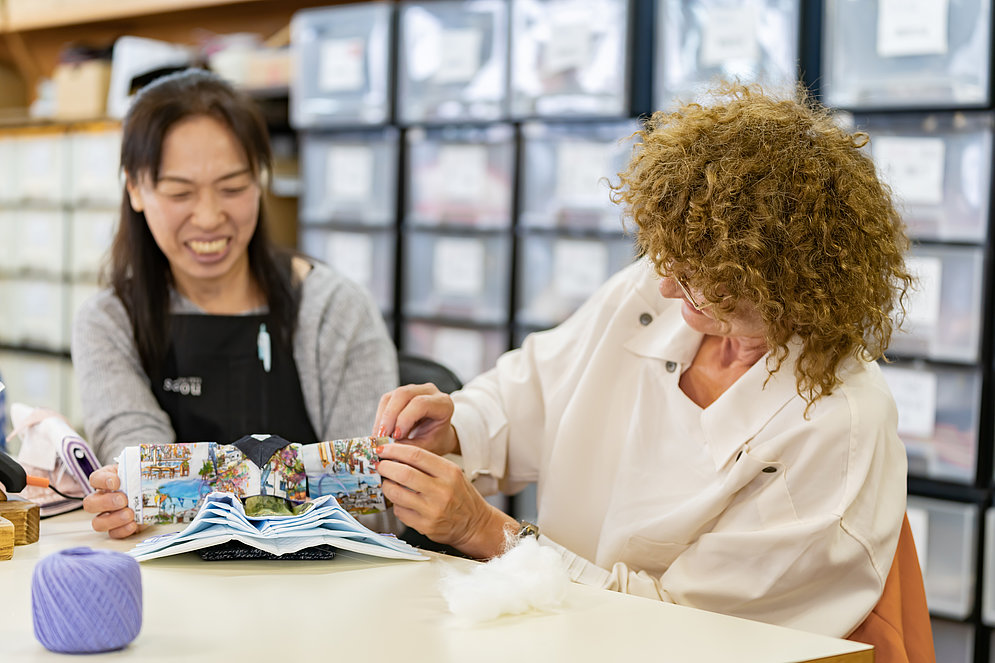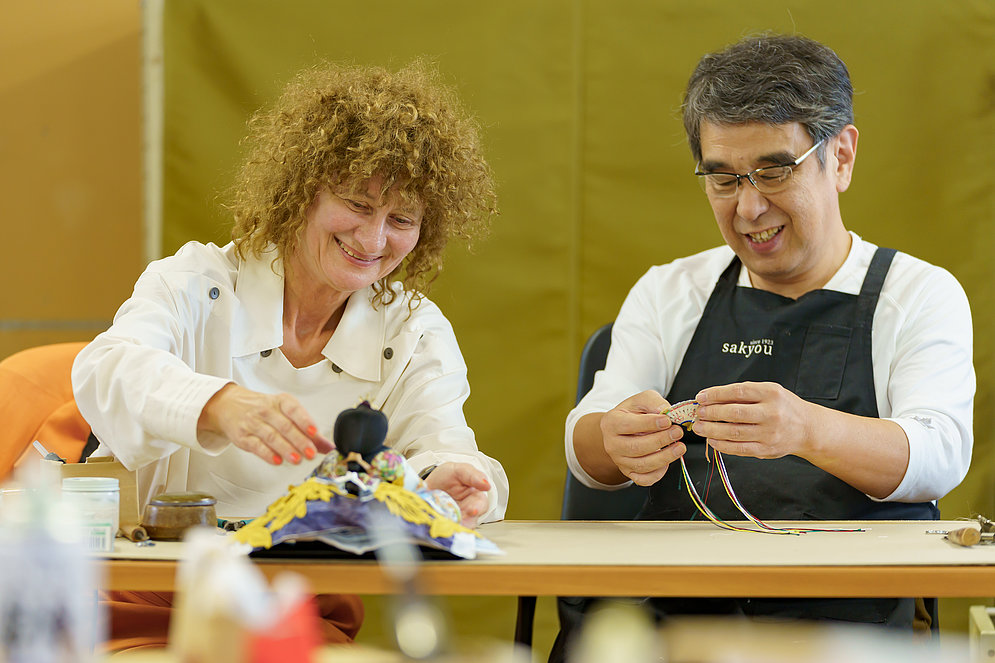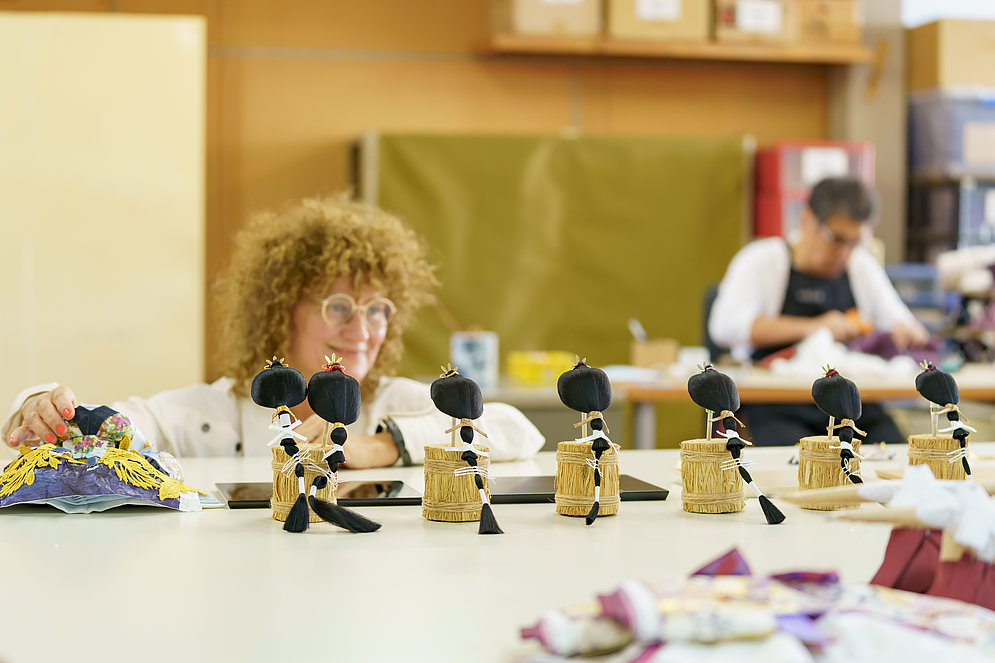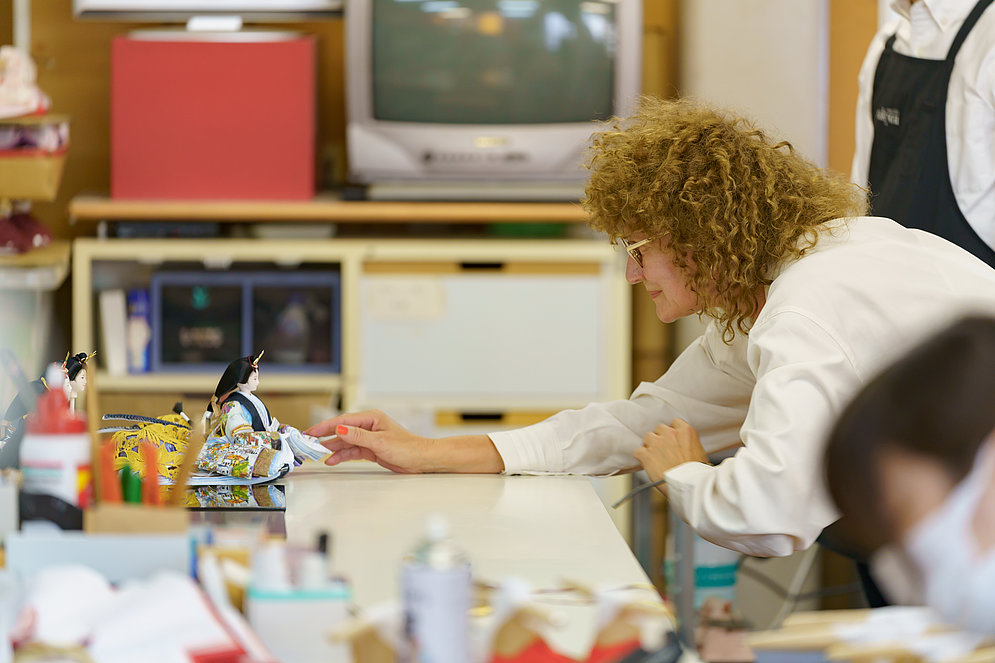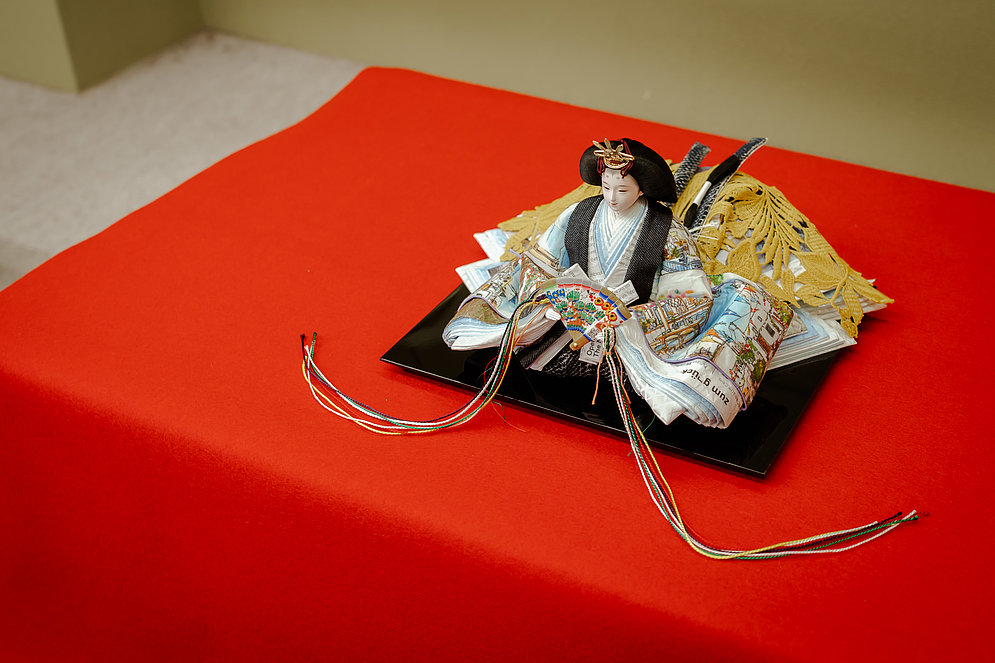 Edwina Hörl was invited by deshitabi for an experience at the Hina Doll Atelier Sakyou in Shizuoka. This type of knowledge transfer (master-apprentice journey through handicraft production processes) is intended to provide the opportunity to learn not only regional techniques and production styles, but also the identity of a particular region - thus creating a lasting personal bond. The Sakyou Hina Doll Atelier was founded in 1923 and has been making traditional dolls, a craft that has been around since the Heian period (794-1185). During the Heian period, it was common to pray to the gods for protection against illness and disaster, to make sacrifices, and to transfer personal misfortune to a doll that was thrown into the sea or a river.
Edwina Hörl takes up this narrative in the design of her Hina doll, addressing the dolls' function of bringing good luck by absorbing misfortune. Referring to her collection "Zum Glück" she uses a text about luck from her publication accompanying the collection. She adds this sheet as a layer of material to the kimono (hakama) in the back, referring to the original use of paper in the kimono design of the dolls. For the remaining layers of clothing, she selects fabrics from the "Zum Glück" and "Out of Balance" collections, tourist motifs from a Greek island, or yellow lace, among others. By integrating text and image, she references not only notions of happiness and unhappiness, but also the performative set of rituals associated with them.
"Only through change and innovation is tradition kept alive," is a leitmotif of Sakyou Hina Doll Atelier, in crafts as well as in fashion.
always edwina hörl + so+ba
Onomichi / Hiroshima, 2018 June 22-24 and June 29-July 1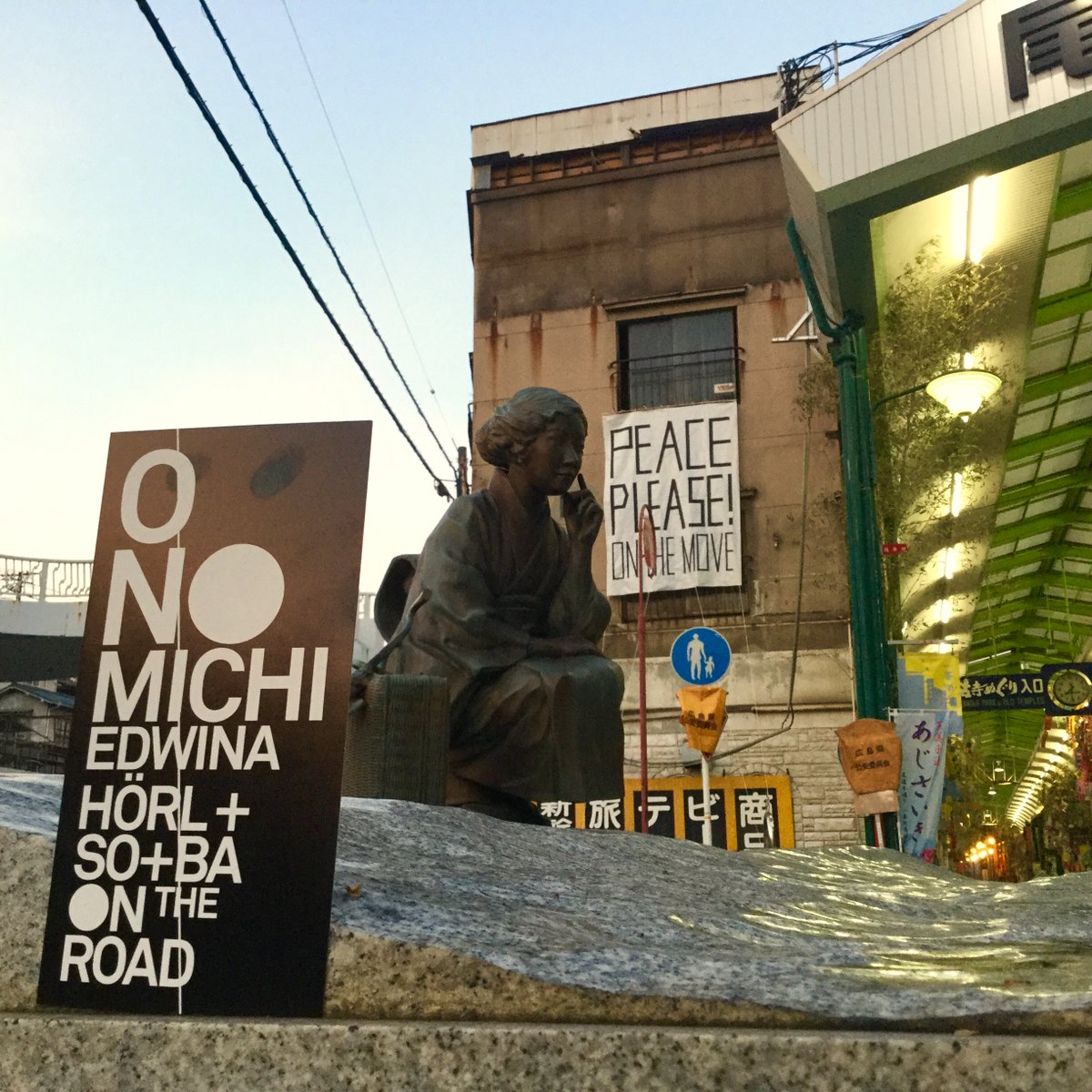 In the exhibition ‹Onomichi on the Road› Edwina Hörl (fashion design) and so+ba (graphic design) create an installative spatial object made of wooden struts, which shows their longtime collaboration (since 2004) in the form of a retrospective project.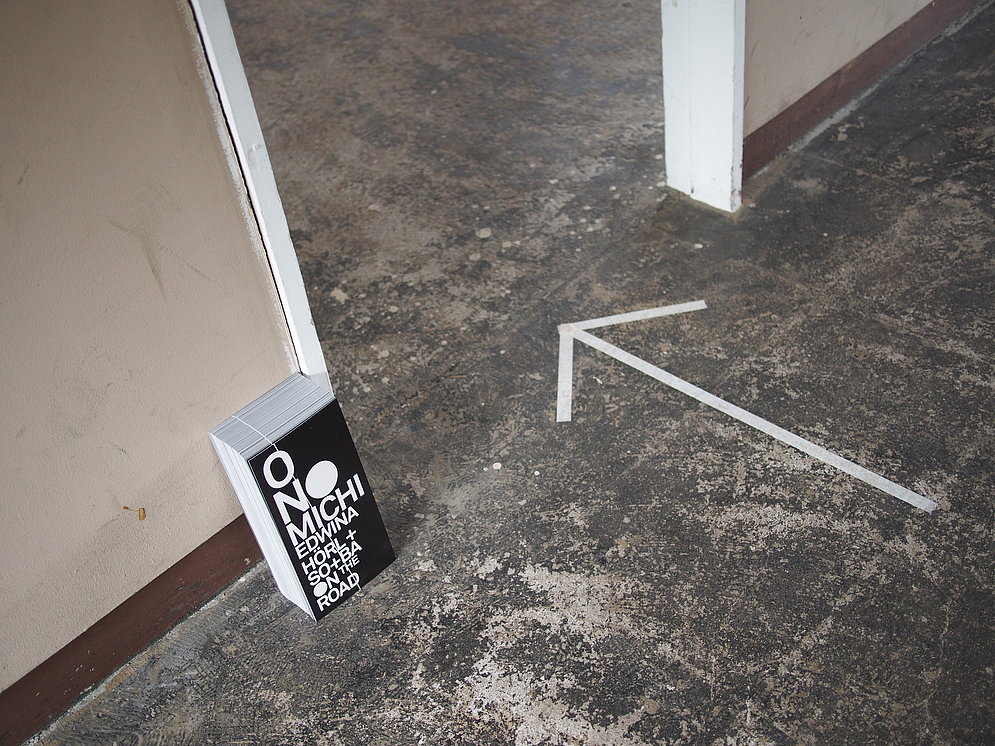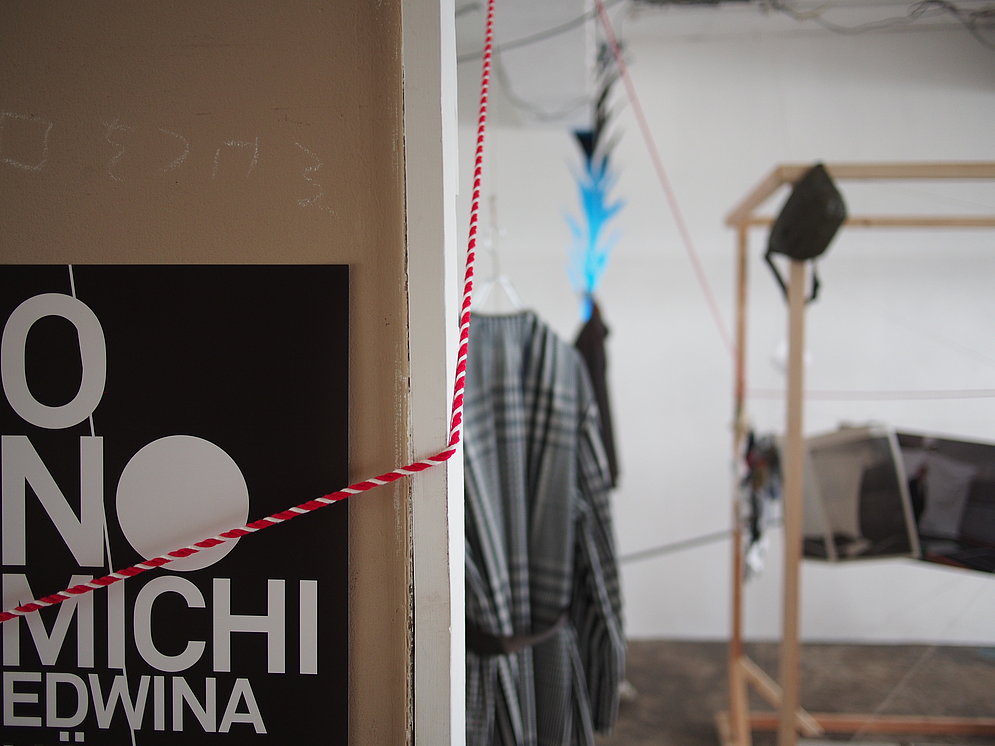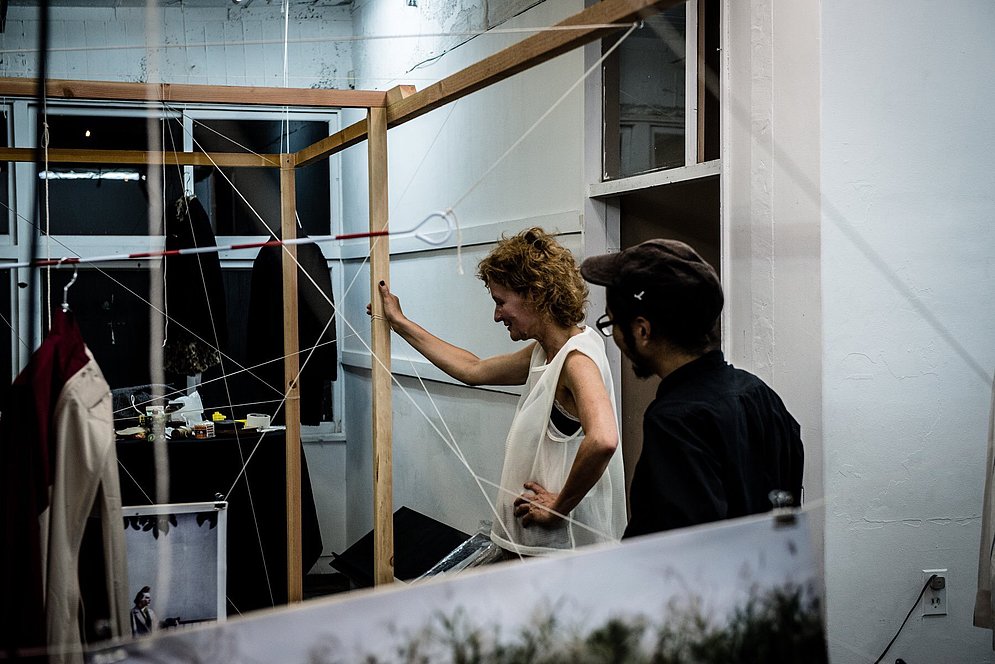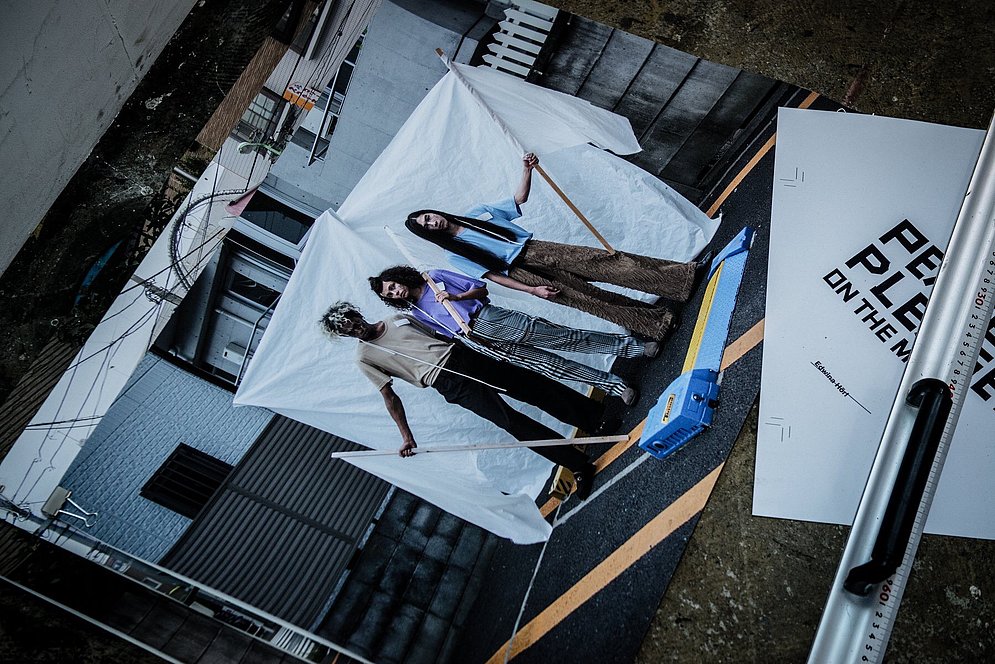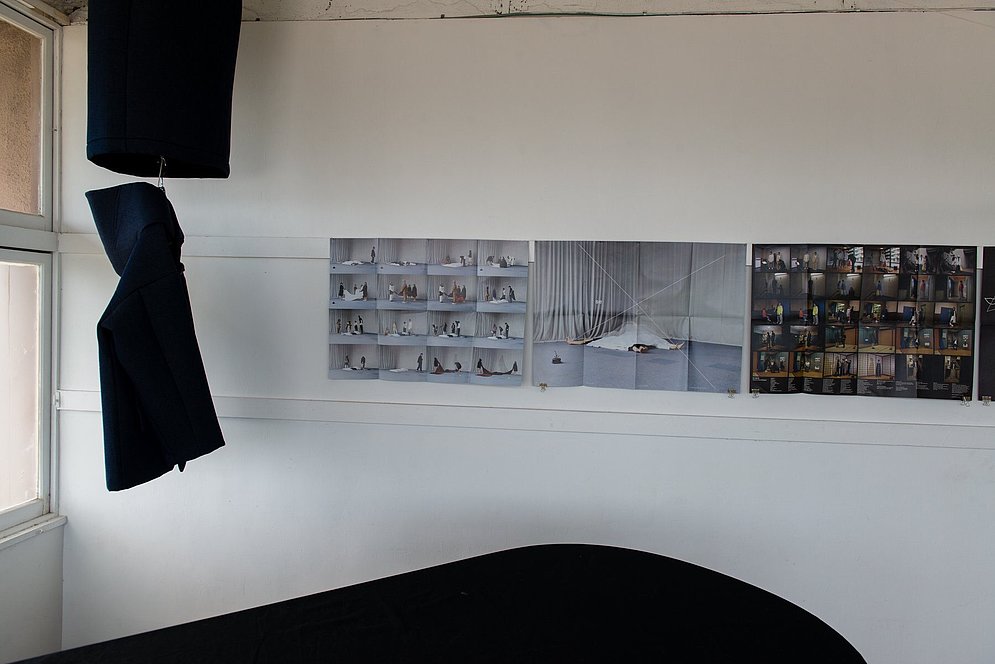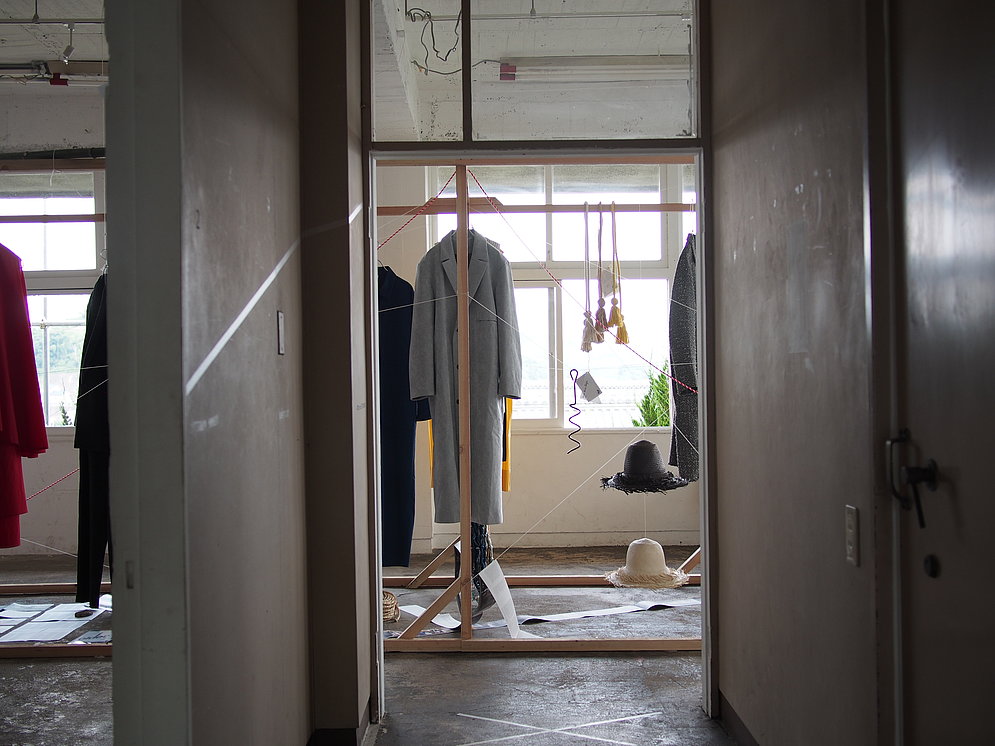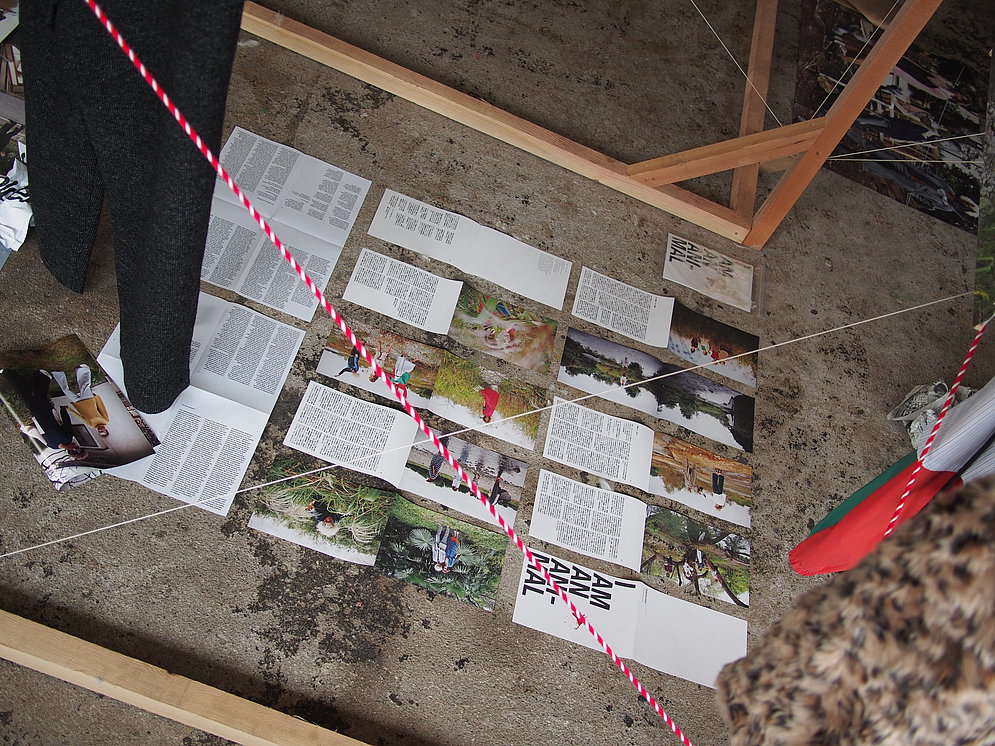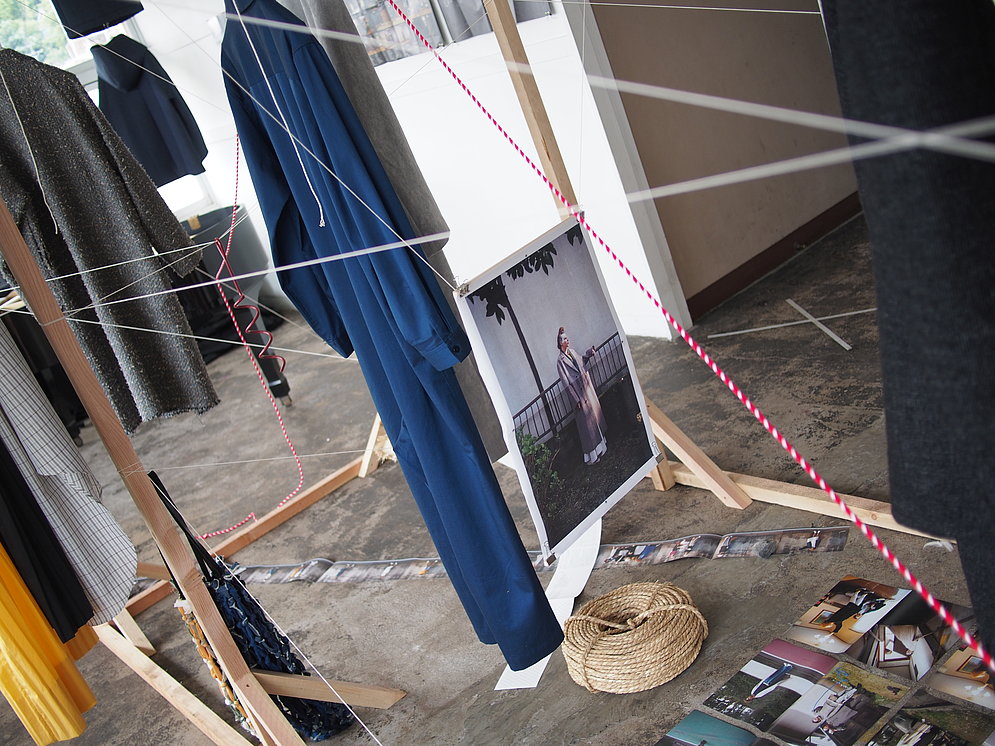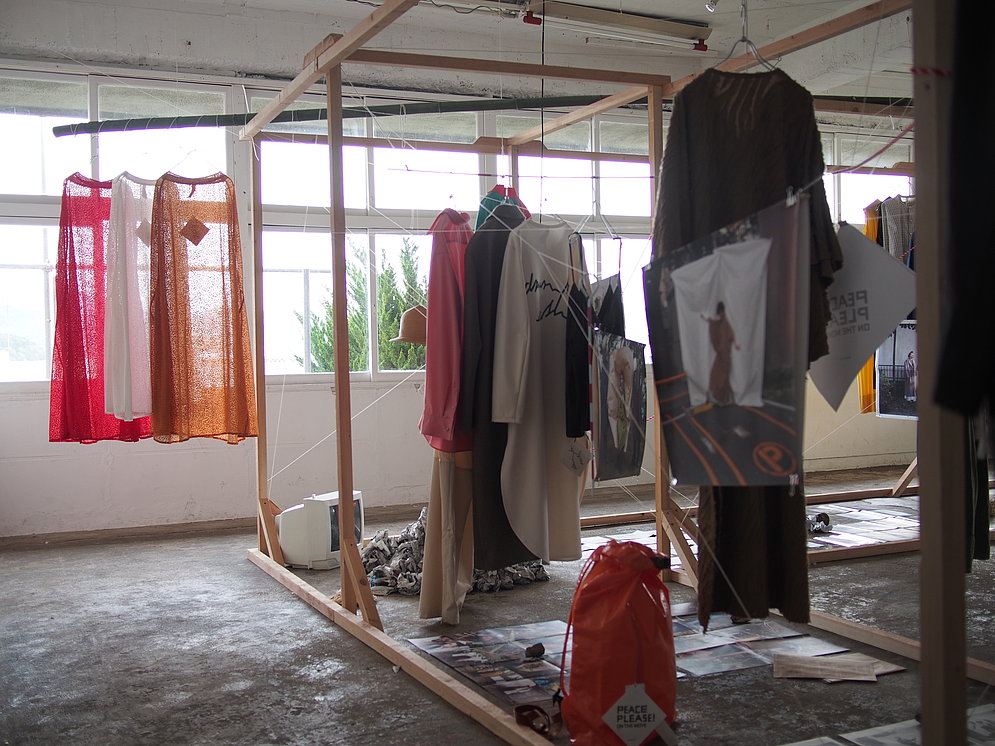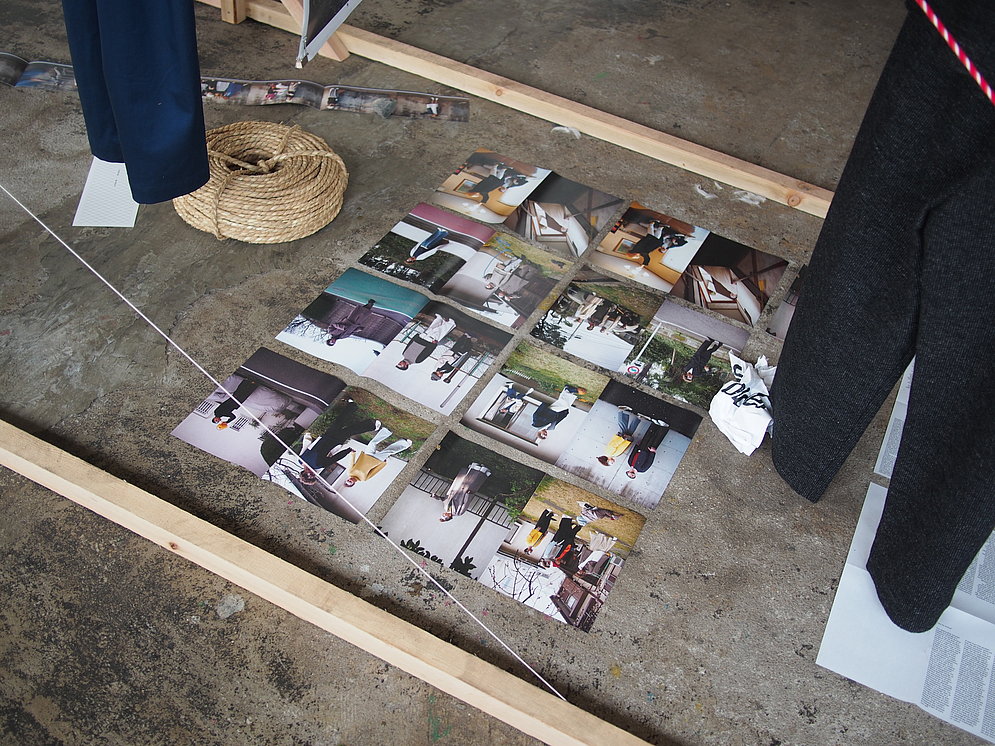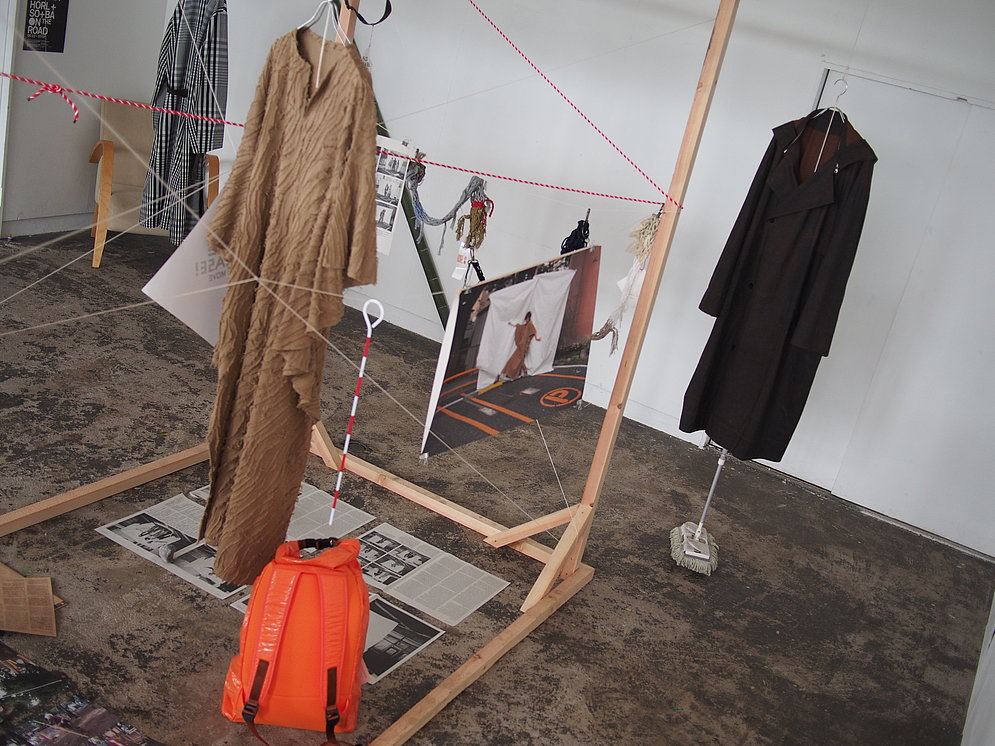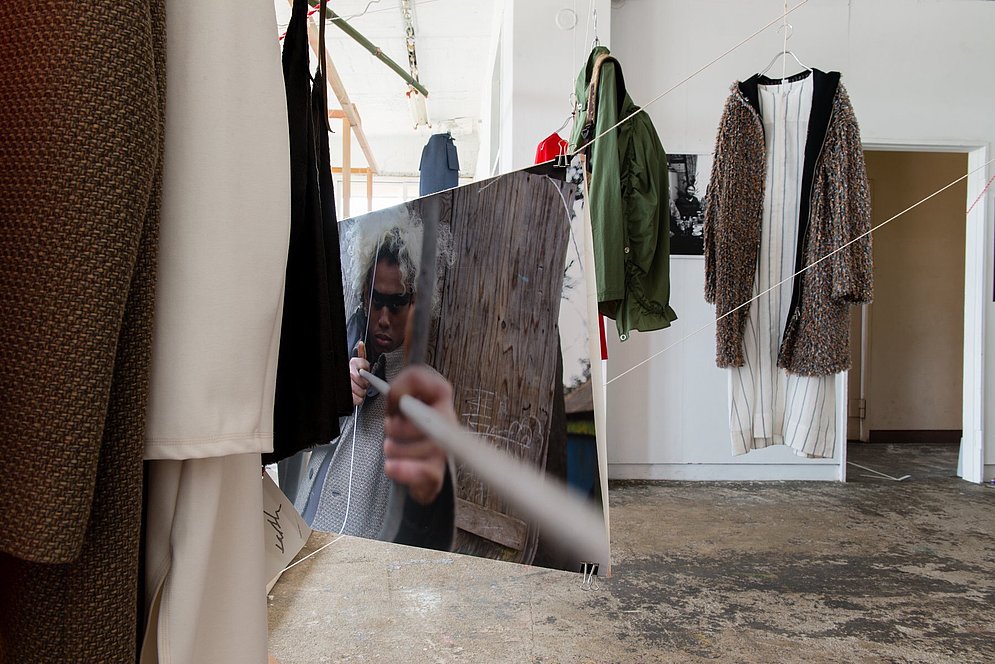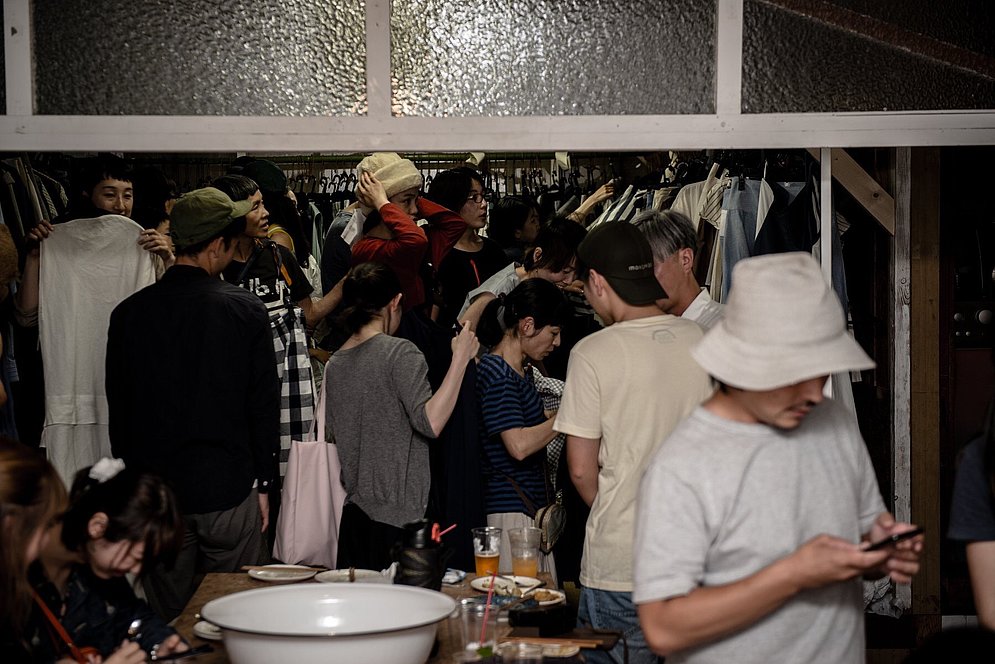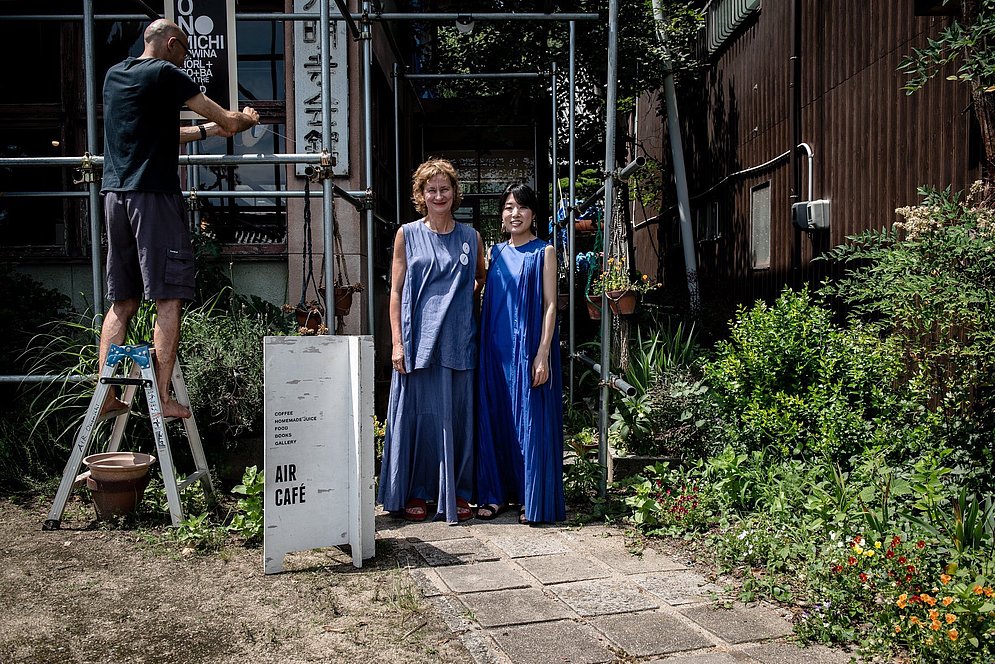 Edwina Hörl's collections are situated in the context of socio-political and eco-social discourses and are accompanied by publications developed by the graphic design studio so+ba. The interaction of fashion design and graphic design manifests itself in the form of reference objects arranged in a spatial staging, in which the interplay of clothing and writing is visualized as a system of signs in space. The installation focuses on the collection ‹Peace Please! on the move›, which addresses international cooperation and peace policy as part of national self-image, among other topics.
SHIFTING TERRITORIES MINI FASHION - BEYOND NATIVE 
Capsule Collection at Pitti Uomo 92.
Florence, 2017 June 13-16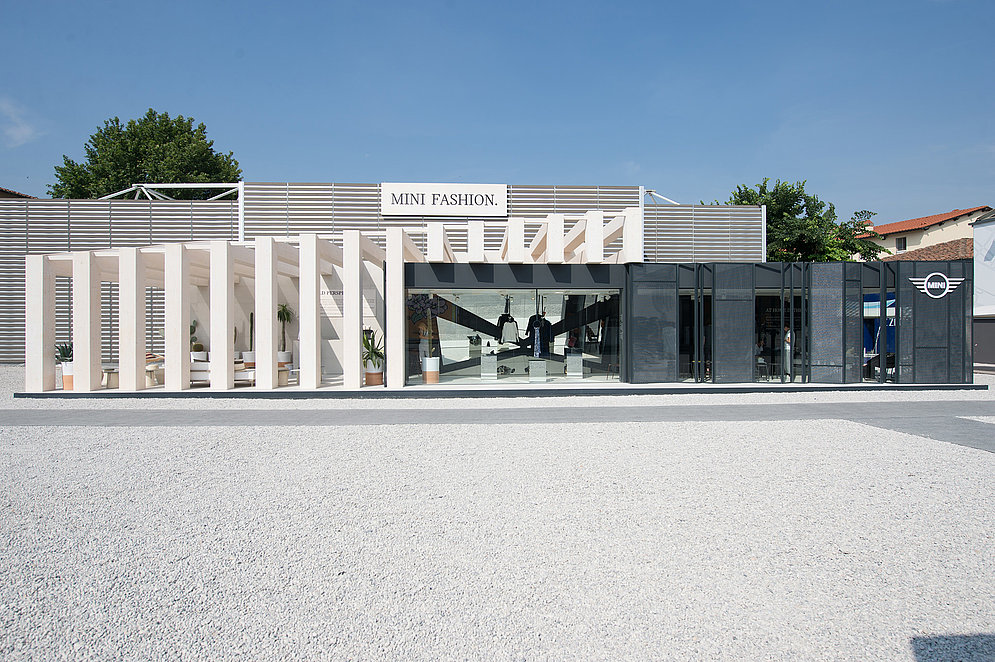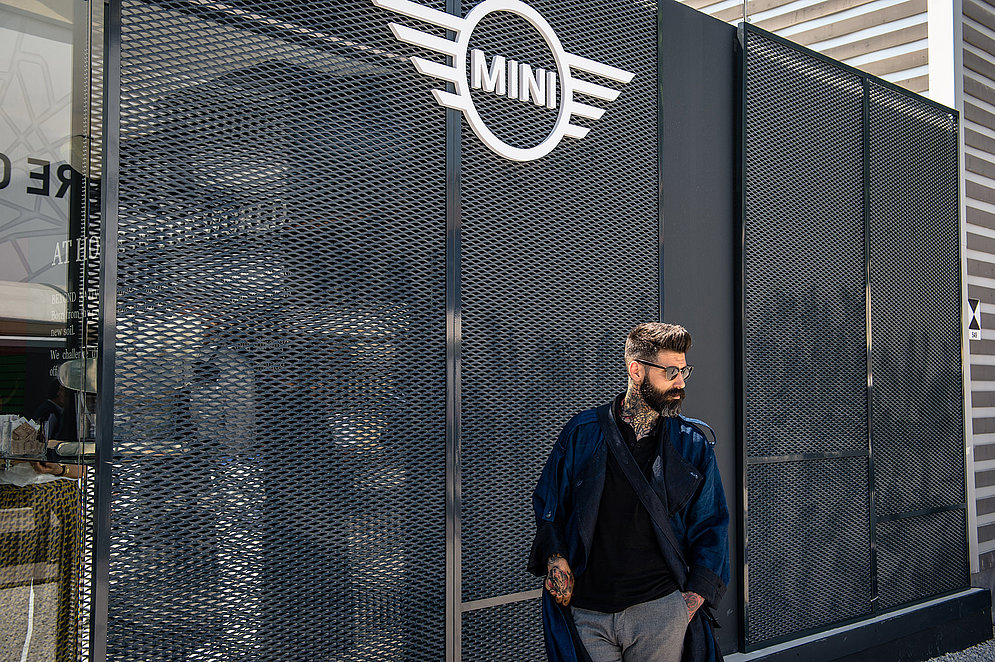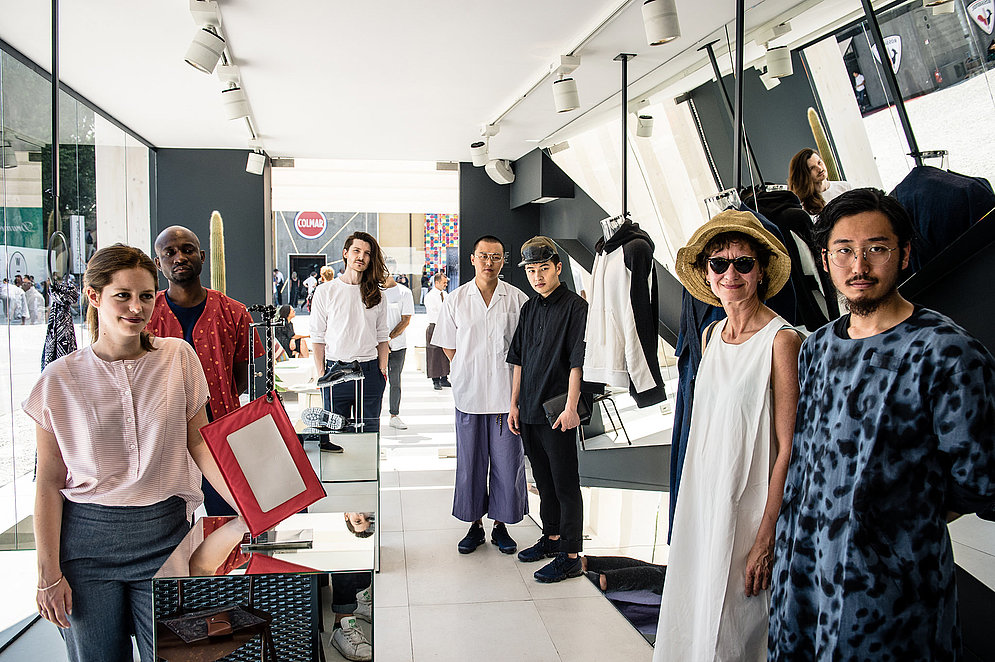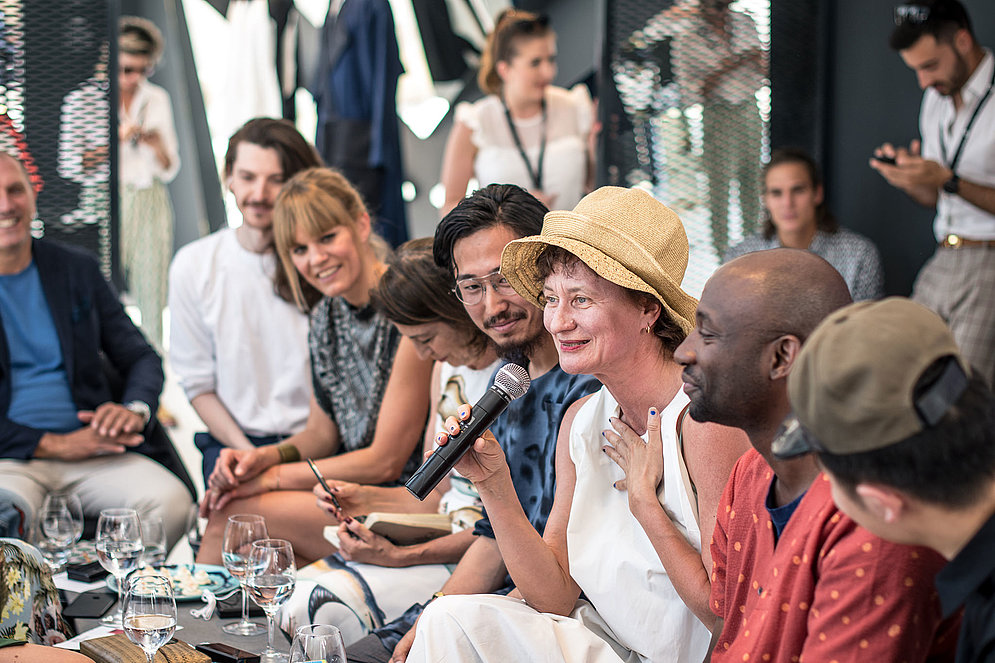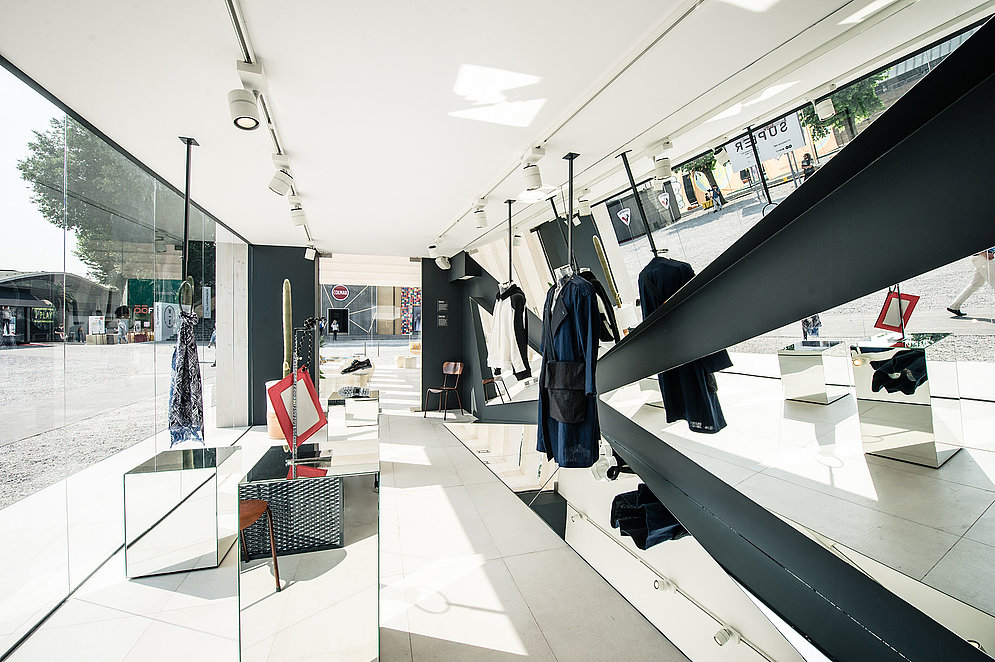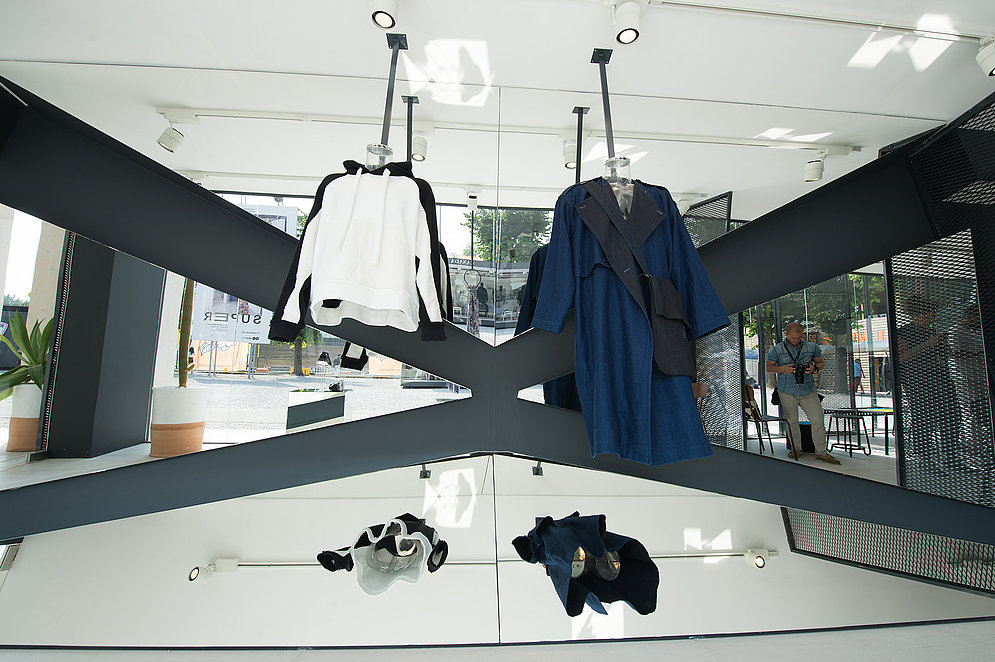 MINI FASHION invited five designers to create a garment for the ‹BEYOND NATIVE› collection as part of the "Pitti Uomo 92" men's fashion fair. What unites the designers is they live and work abroad. The collection focuses on transcultural aspects, showing specific connections between traditional elements of the designer's homeland and new cultural influences of their adopted country. This tension between one's own roots and the longing for the faraway or the unknown determines both intercultural forms of being and of design. ‹BEYOND NATIVE› reflects transcultural hybrids as cosmopolitan ways of living and working.
Participating fashion designers: Diego Vanassibara, Pronounce, Post-Imperial, Perret Schaad, Edwina Hörl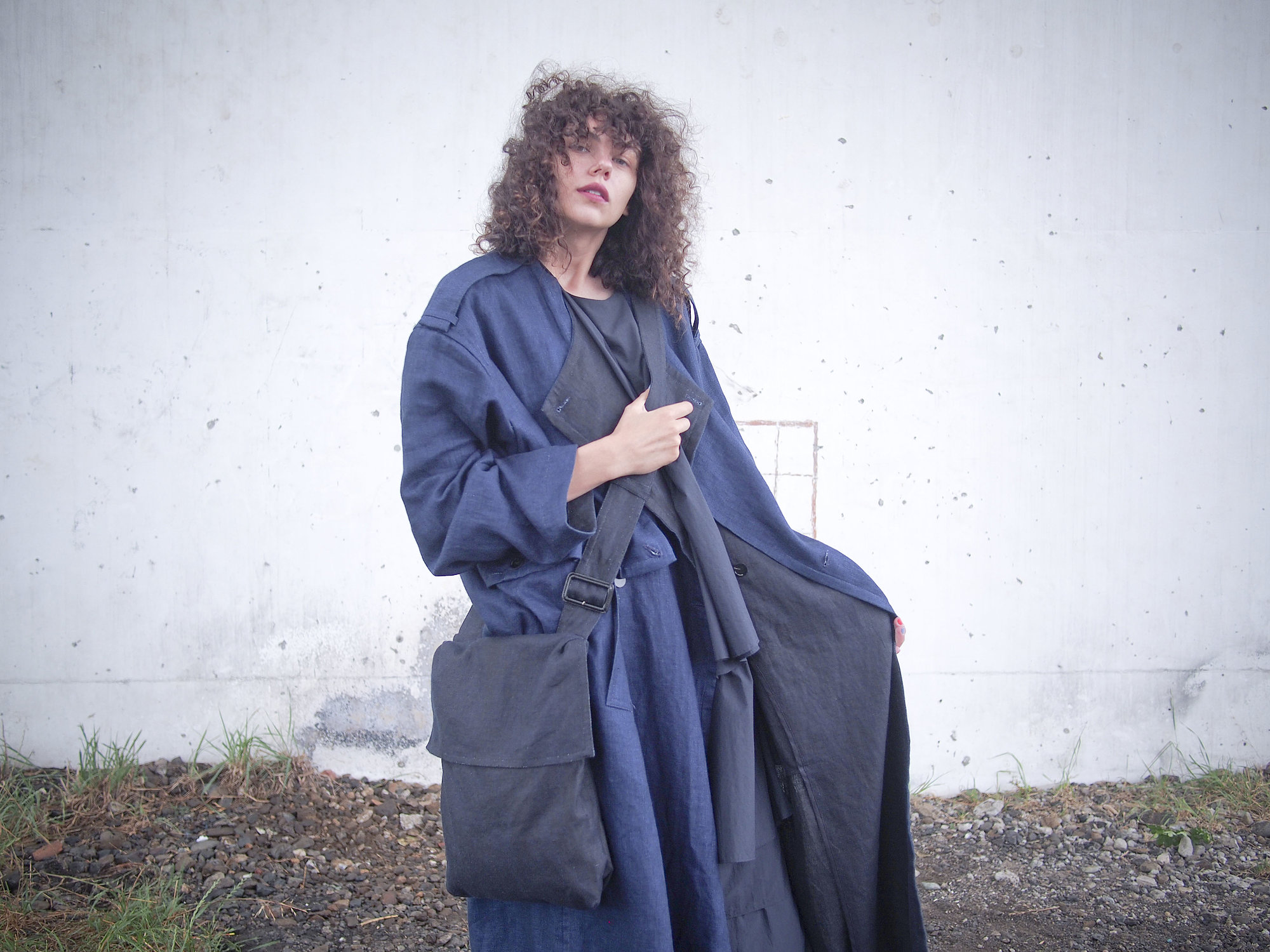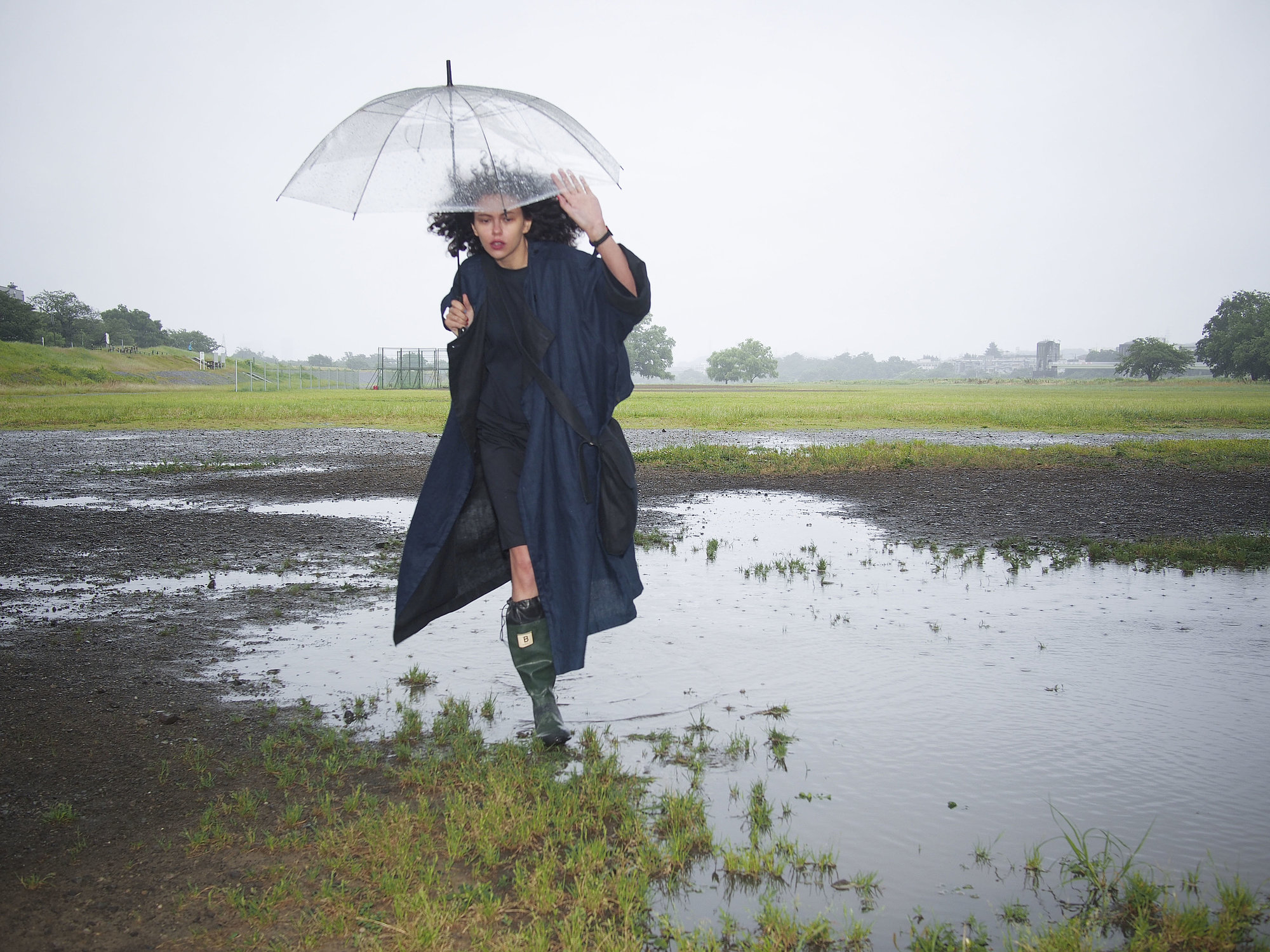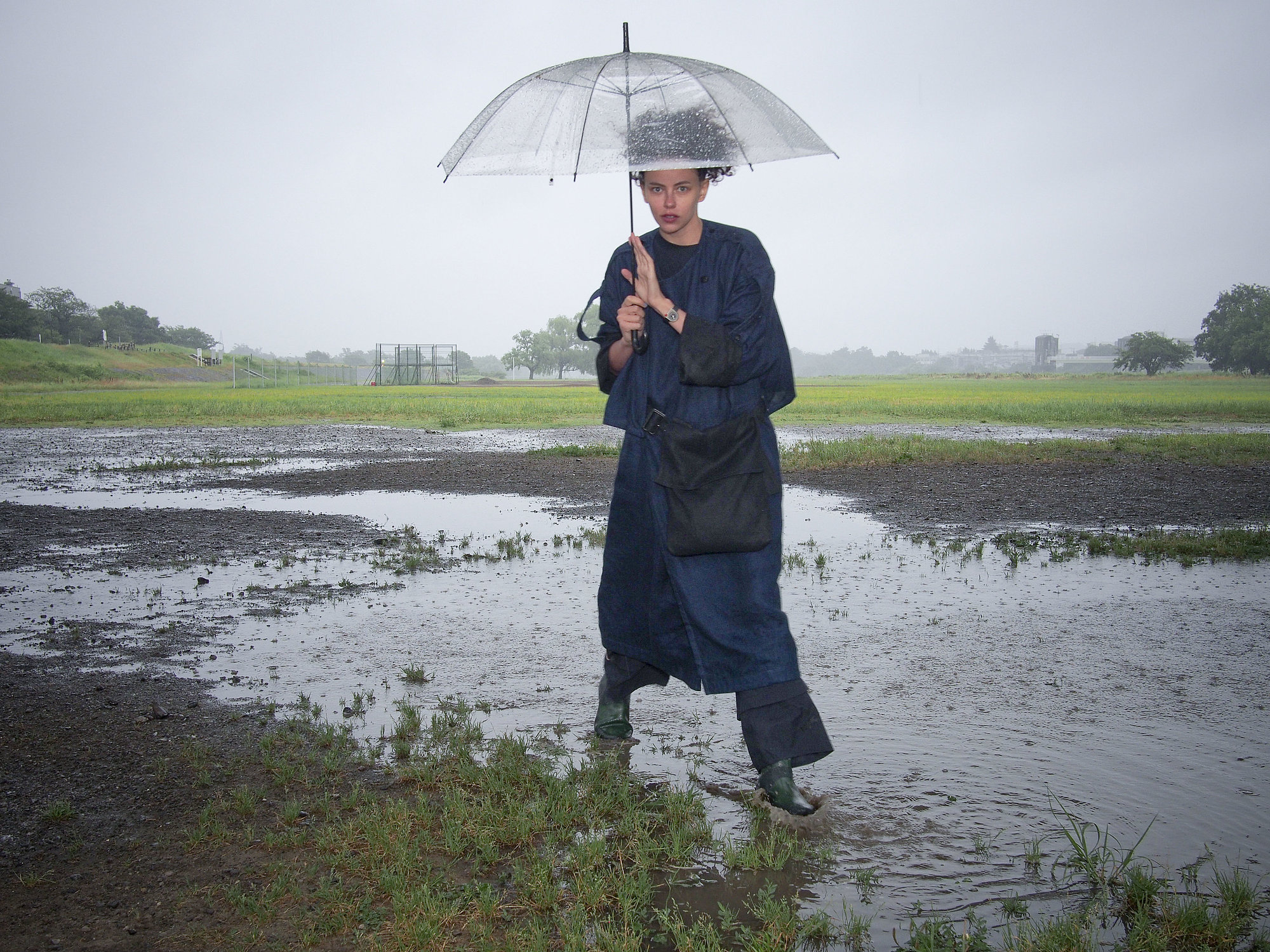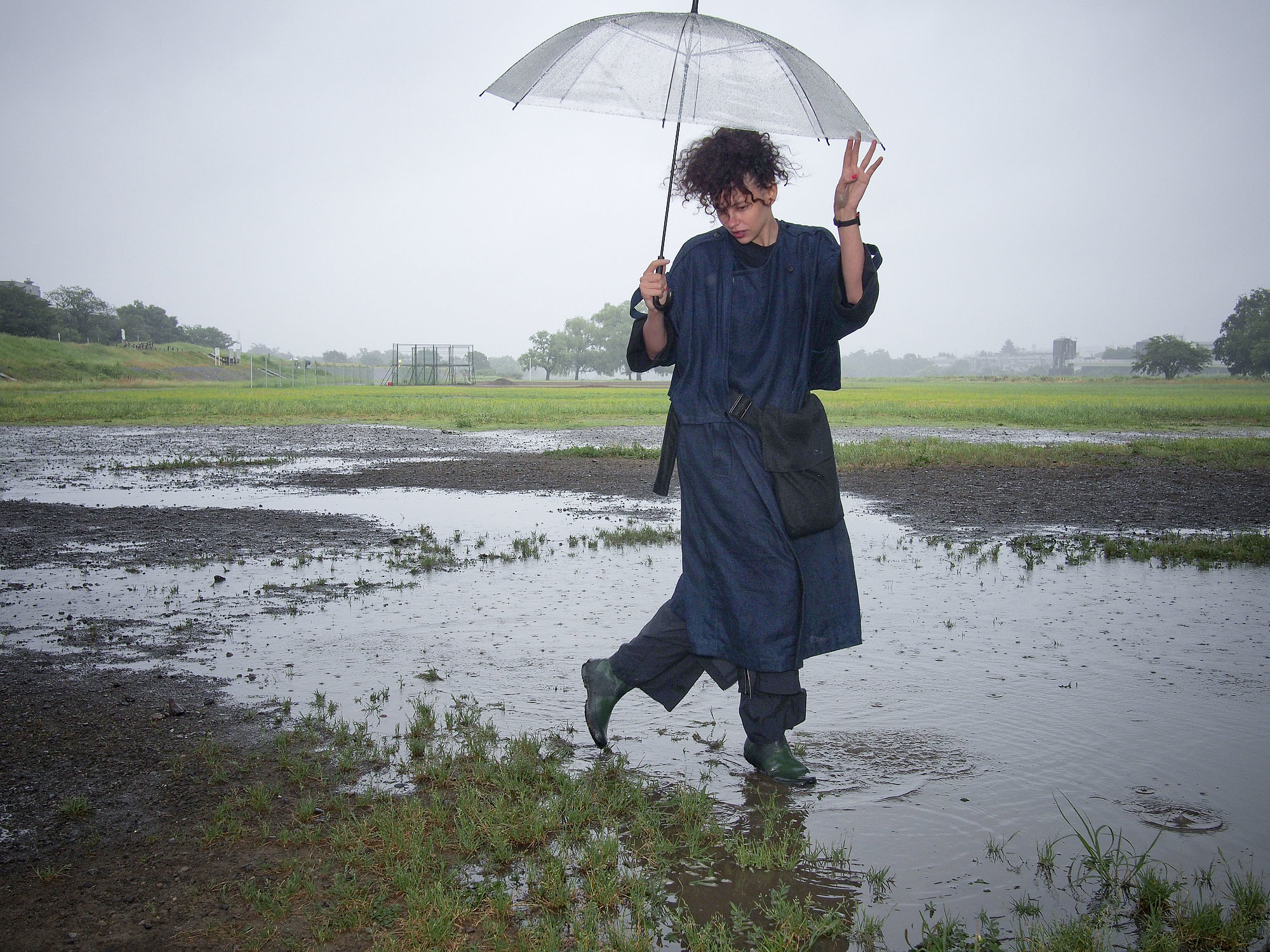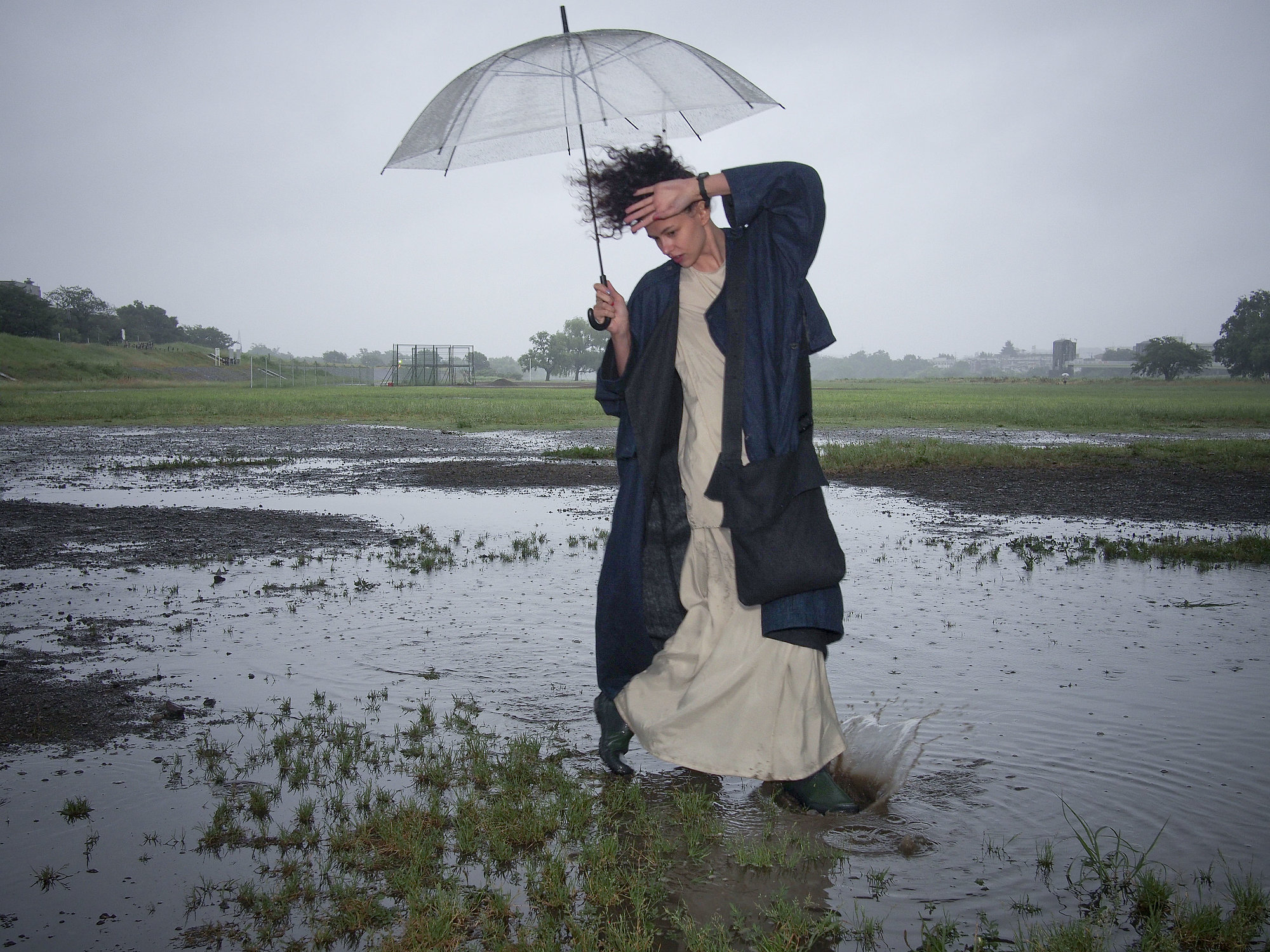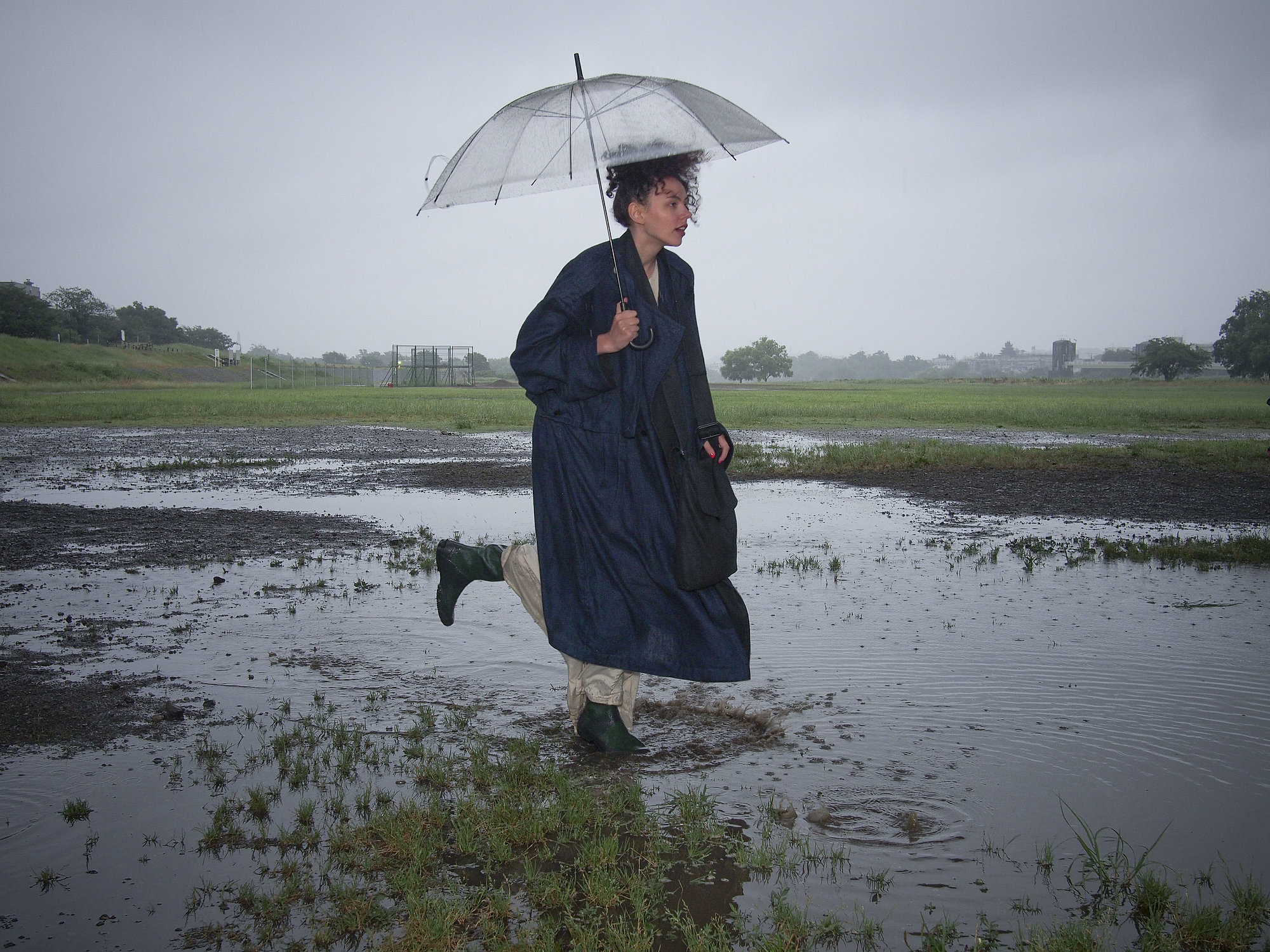 Edwina Hörl designed for ‹BEYOND NATIVE› an urban traveler coat that combines elements of the Japanese Haori coat with typical trench coat elements. The material of the Haori garment consists of 100% pure indigo-dyed linen, coated on the inside with sumi ink (charcoal). The Haori trench coat represents a hybrid of Japanese and European culture and history, combining functions of a travel bag and elements of protective clothing carried while traveling. Edwina Hörl equips the coat with two welt pockets and a waist belt that can be looped through an additional pocket pouch. Alternatively, the belt and pouch can be removed and used as a shoulder bag. According to Japanese custom, salted, fermented soybeans ("daitoku-ji natto") can be carried in the bag, which in former times was taken along on travels as a durable and healthy source of energy. The trench coat was developed as a weatherproof raincoat for the British military in the 19th century. Over the years, this hard-wearing garment has become an "evergreen" in the history of fashion. Among other things, it is particularly suitable for travel because it is light and robust. Combinations of manufacturing techniques, materials and habits of different cultures are concretized here in a garment that is not only worn, but functions as a transcultural carrier object.
displaying fashion, displaying art [agonale] encounters of art and fashion
Edwina Hörl + so+ba

 at Galerie 5020
Salzburg, 2016 June 5-25
The exhibition addresses the interplay and interaction between fashion and art. Beyond demarcation and radical openness, it asks what other forms of encounter are possible and what new constellations of the respective own can emerge as a result. Different practices from both fields are taken up in order to overcome the relationship of exchange and to query the respective institutionalized context.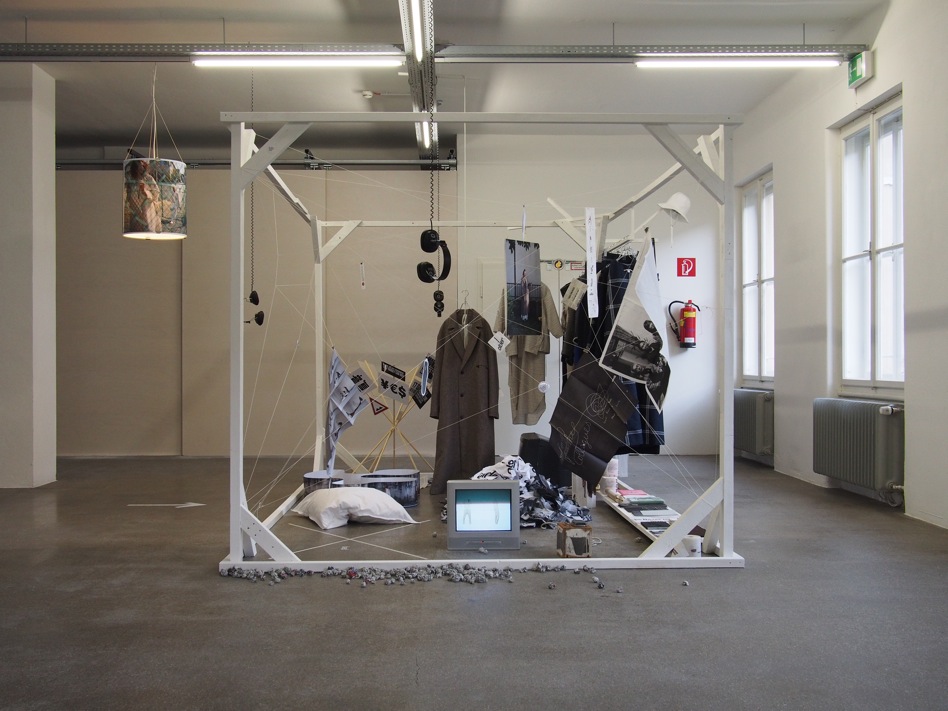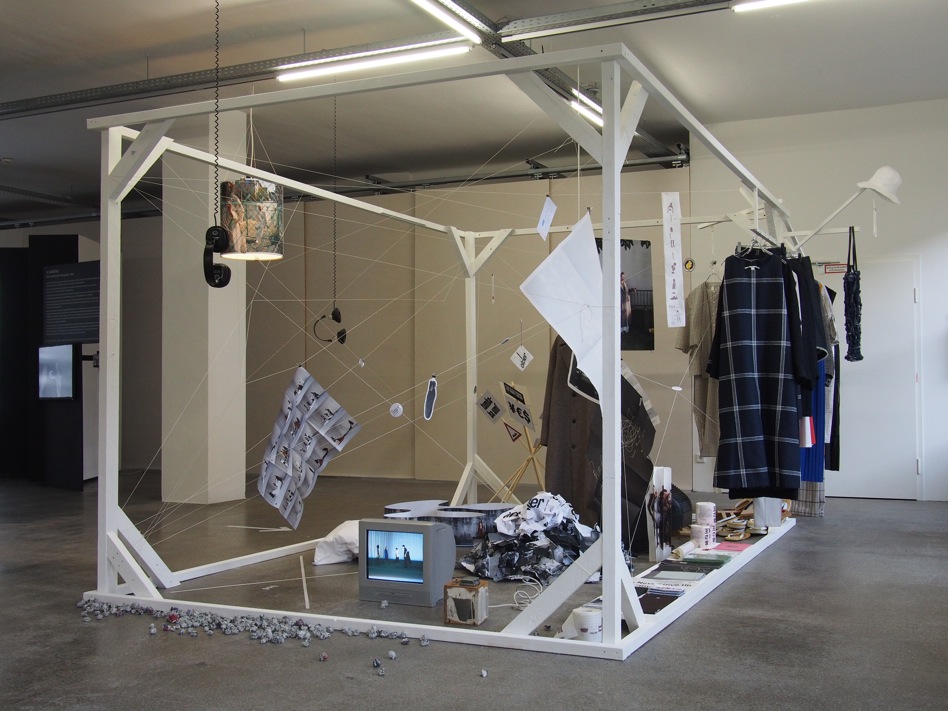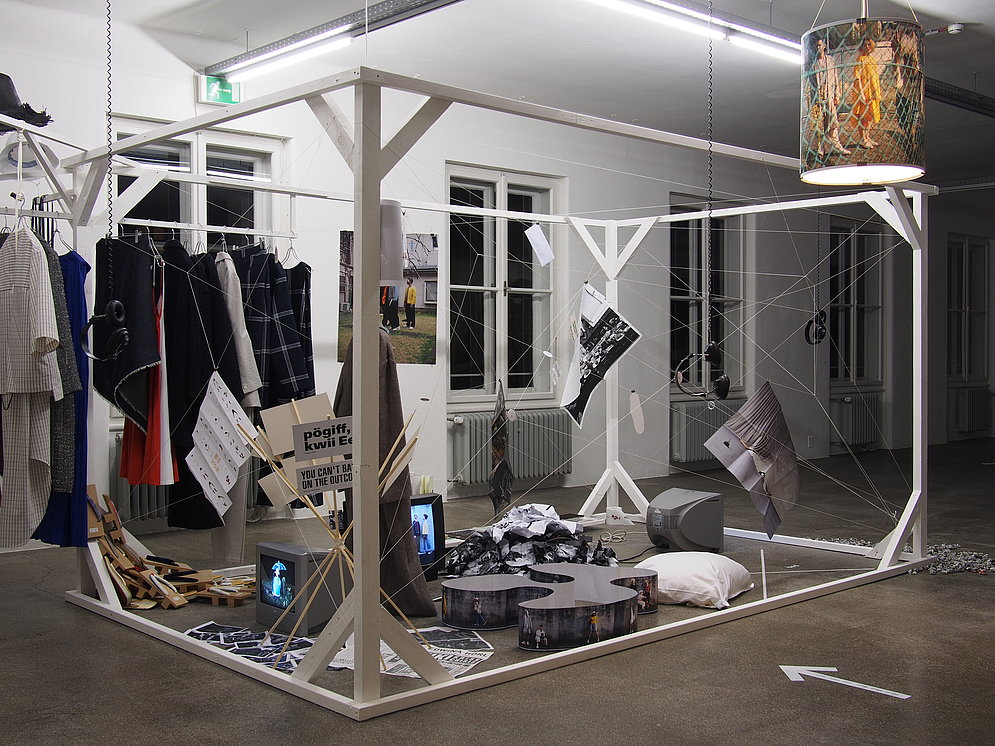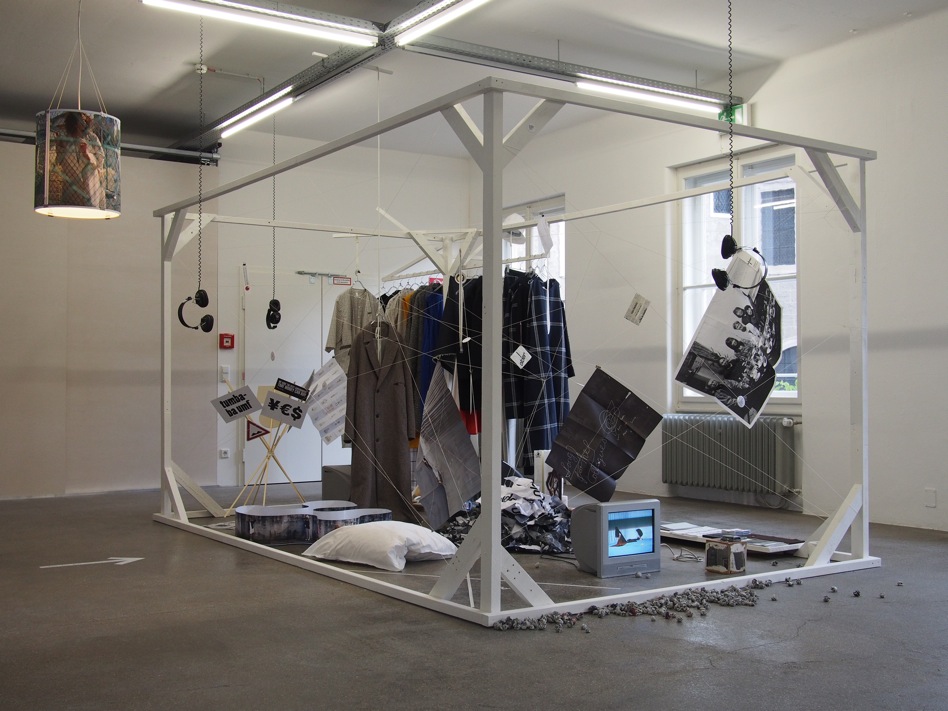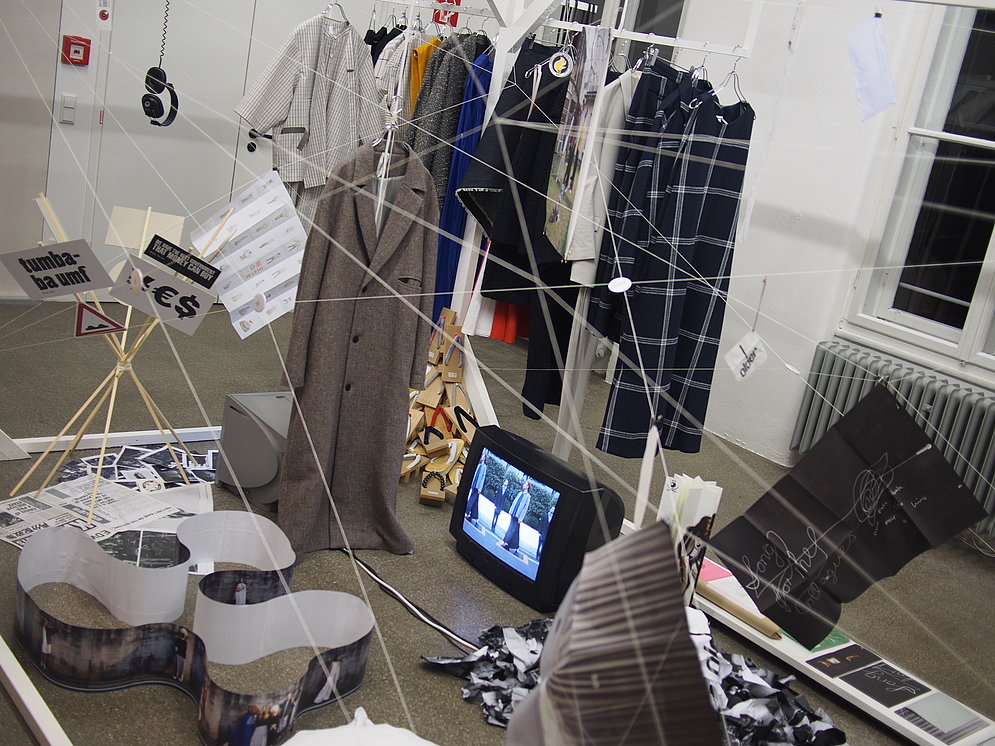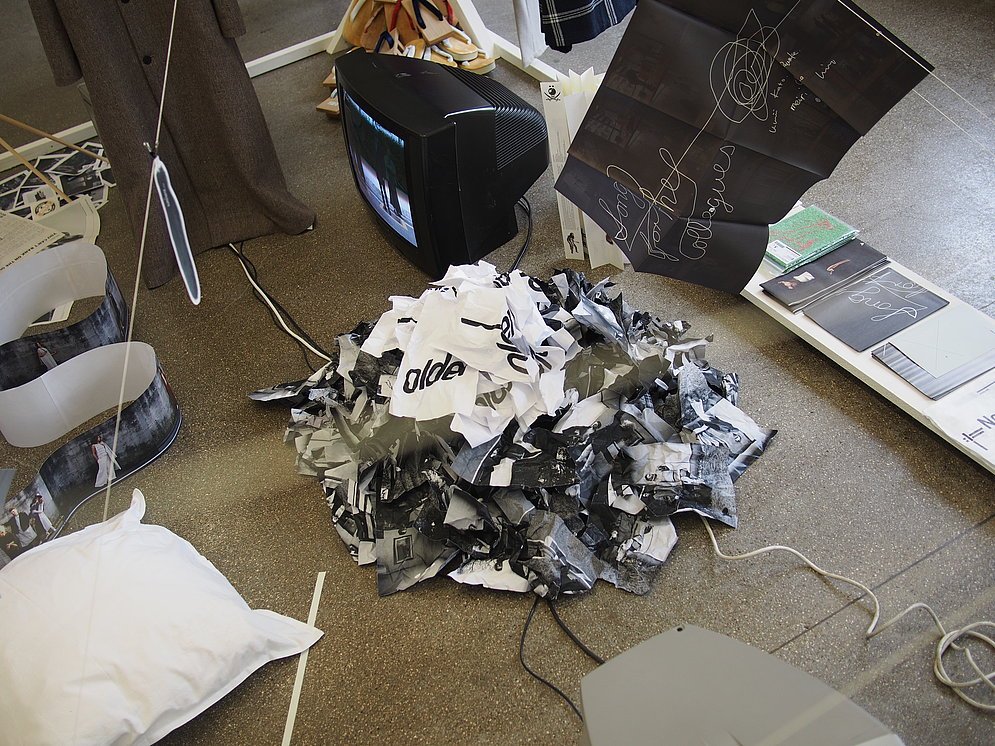 Edwina Hörl and so+ba cooperated to develop the installation "k leider und so weiter", a container box made of wooden frames that represented a space for ideas and materials.
In the implied and open space, garments and reference objects of various collections were shown: "older", "tan tan run run", "family gang", "song for the colleagues", "sex", "penpengusa","A A A - anshin anzen anarchy", "kiki / krise / crisis", "mimi", "hadaka no oosama". Edwina Hörl takes up socio-political and cultural-historical issues in her collections, which not only reflect the complexity of reality, but also relate the present to the past and future. Fashion design, textile design, graphic design and current discourses are interwoven to reflect both on the phenomenon of fashion and on questions of time and life. Thus, the collection "older" discusses aging by decoding cultural conventions, "song for the colleagues" in turn is dedicated to Edwina's own team, without which the realization of the collections and projects would not be possible.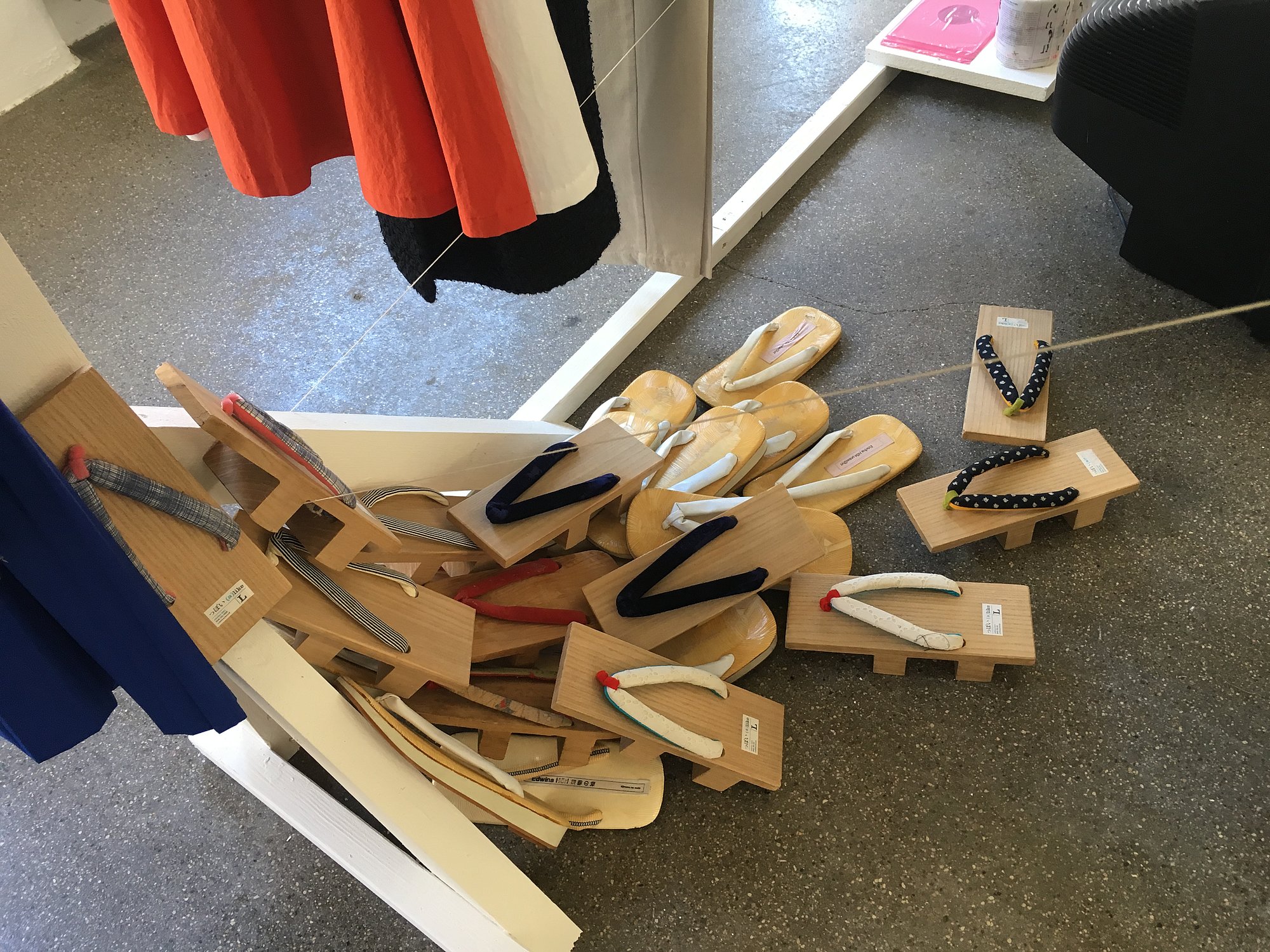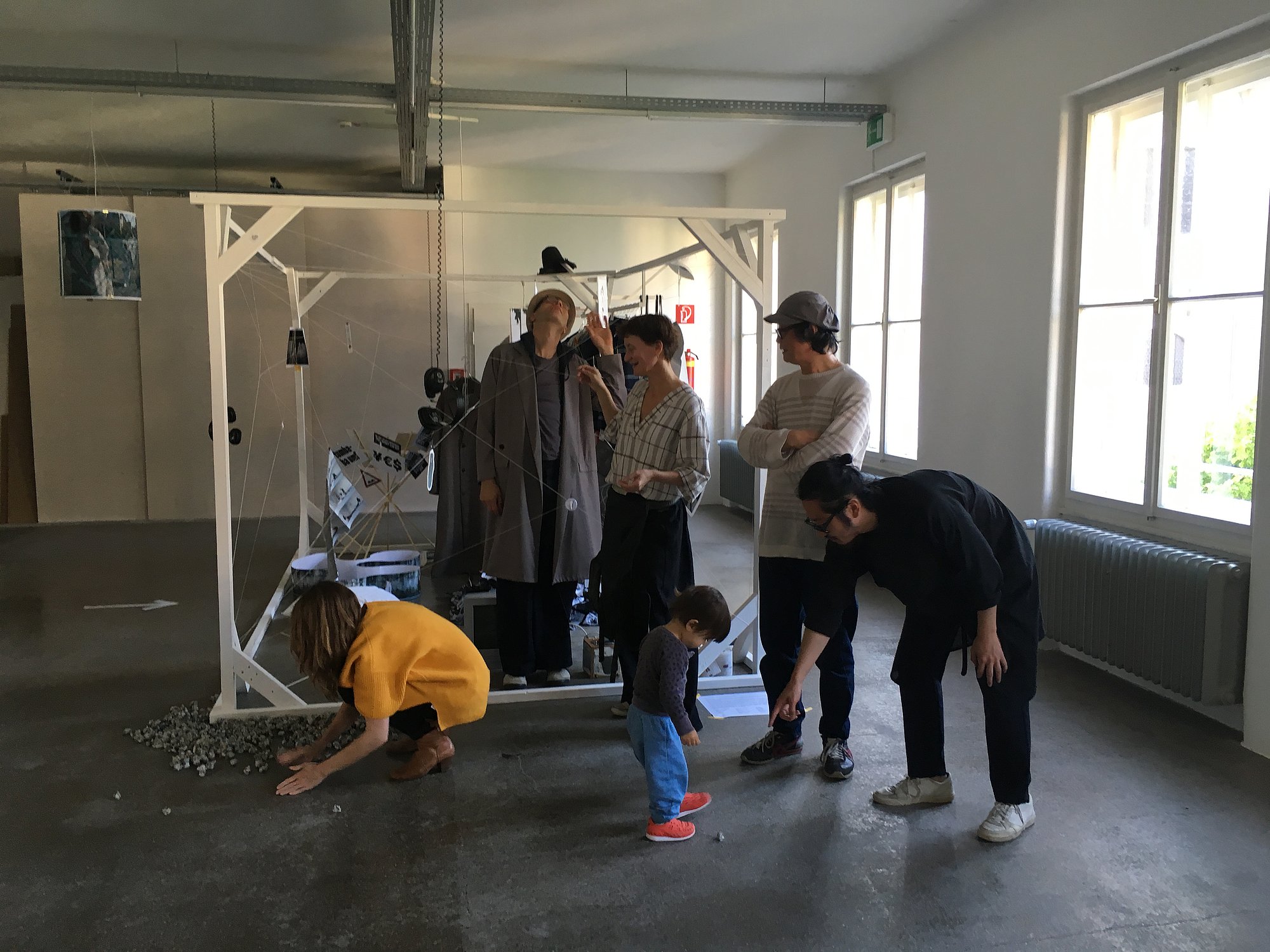 Participating artists/designers: Anna-Sophie Berger, Edwina Hörl, Lena Kvadrat/art point, Johannes Schweiger and Hanna Weichselbaumer